Half of Americans Say Obama Doesn't Deserve Re-Election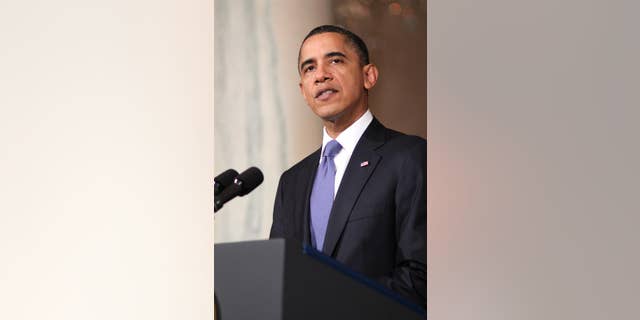 NEWYou can now listen to Fox News articles!
Half of respondents in a new poll say President Obama does not deserve to be re-elected, and his job approval ratings are at the lowest of his presidency.
These numbers come as the president is expected to formally announce his re-election bid in the next few weeks.
The Quinnipiac University poll, released Wednesday, reports 50 percent of respondents do not think Obama deserves to win in 2012, compared to 41 percent who say he does. These numbers are a slight change from a March 3 Quinnipiac poll in which voters said 47 to 45 percent that the president did not deserve re-election.
A plurality of those surveyed--37 percent to 36 percent--say they would vote for the Republican nominee over the incumbent. But Former Bush adviser Karl Rove says besting Obama's re-election treasure trove will be a tough battle.
"The president's going to have a monetary advantage; how big of an advantage we don't know," Rove said in an appearance on "Happening Now." The key, he added, is not whether Republican challengers can match Obama's reported $1 billion fundraising goal, but rather whether the money they are able to raise will be sufficient to convince voters.
Forty-two percent of respondents said they approve of the way Obama is handling his job as president, a record low for the Quinnipiac poll.
Rove says that, while a presidency is neither made nor broken by a few polls, "these are troubling trends in the short run." He added that he thinks the president's "muddled" handling of the crisis in Libya has helped contribute to the low numbers.
Perhaps of greater concern, Rove said, are results of a Gallup poll also out Wednesday that finds several key character ratings are down for the president. Fifty-two percent of respondents in that poll say he is a strong and decisive leader, down from 60 percent last year and 73 percent in April 2009.
Sixty-one percent of Gallup respondents say they find Obama honest and trustworthy, but just 36 percent say the president has a clear plan for solving the country's myriad problems.
"They like him, they wish him well but they are giving him poor marks today on his conduct and his handling of the big issues," Rove said.