Florida Legislator Wears Passport to Work to Protest Arizona-Style Immigration Measures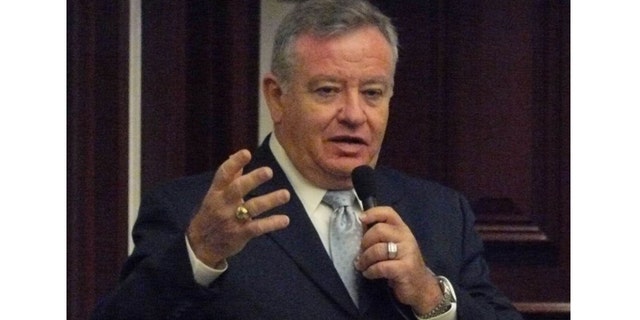 Florida Rep. Luis Garcia Jr. doesn't wear his feelings on his sleeve – he wears them on the front of his shirt.
To protest his fellow legislators' proposed measures taking a hard line on illegal immigration, Garcia, a Miami Democrat, is wearing his U.S. passport on a lanyard around his neck.
The message of his sartorial symbol is that if Florida follows Arizona in cracking down on illegal immigration by allowing police and other government workers to demand proof of legal residency, even U.S. citizens like himself will have to carry around IDs such as a passport or birth certificate to prove they're legitimately here.
"I've been in the United States 50 years," said Garcia, who came from Cuba when he was 14 years old. "I still have vestiges (of an accent), if I drove through one of those towns in the north of Florida, towns that are practically southern states, close to Georgia and Mississippi, I'd probably be asked for ID."
Authorities with darker instincts, Garcia said, could, in a region with a climate that is harsher toward immigrants, make unreasonable demands that he show he is here legally.
"U.S. citizens don't carry around green cards," he said. "All we really have that says we were born in the United States, or are U.S. citizens, are birth certificates or passports. We don't carry these around with us on a day to day basis. For people with accents or who seem foreign to a police officer, that may be reason to suspect us of being here illegally."
Garcia said he thought wearing his passport around the statehouse in Tallahassee would be a way to get his fellow legislators thinking, or rethinking, the consequences of implementing Arizona-style laws.
Florida Gov. Rick Scott, a Republican who was sworn in this month, ran an election campaign commercial last year that said: "Rick Scott backs Arizona's law; he'll bring it to Florida and let our police check if the people they arrest are here legally. That's common sense."
State Sen. Mike Bennett has filed an Arizona-style bill that would let police, during a legal stop or arrest, ask for a detainee's immigration documents if an officer suspects the individual is in the country illegally.
The American Civil Liberties Union of Florida, meanwhile, issued a statement saying it strongly opposes such legislation. The ACLU also is against requiring businesses to use a federal database to check the status of new hires and subjecting illegal immigrants who commit crimes to harsher penalties than legal immigrants or U.S. citizens.
At a recent discussion in the state capital on immigration, lawmakers were told that as many as 725,000 unauthorized immigrants live in Florida, three times more than in 1990.
The state prison system houses 5,641 of those undocumented immigrants and 80,000 are enrolled in public schools.
Robert Lord, vice president and chief legal officer for the Martin Memorial Health System in South Florida told about the millions of dollars the hospital spends treating undocumented patients.
Republican State Sen. Alan Hays said: "My sense right now is we have a real need for some quick action."
But Garcia and other opponents of some hard-line measures believe they go too far, and will have unintended consequences.
"When a small group loses rights," Garcia said, "we all lose our rights."
Those pushing bills calling for police to check immigration papers stress that they explicitly forbid ethnic or racial profiling.
But Garcia is skeptical.
"As much as they say they do not want profiling, if that law passes, I'd need an ID that erases doubts someone might have that I – with a slight accent and a Hispanic surname – actually belong here," he said.
"There's no little card we can carry in our wallet that says 'U.S. citizen.'"
His colleagues in the legislature have taken his visual disobedience, so to speak, good-naturedly, he said.
Elizabeth.Llorente@FoxNewsLatino.com
This story contains some material from The Associated Press.
Follow us on twitter.com/foxnewslatino
Like us at facebook.com/foxnewslatino