Fiance visa used by San Bernardino terrorist under scrutiny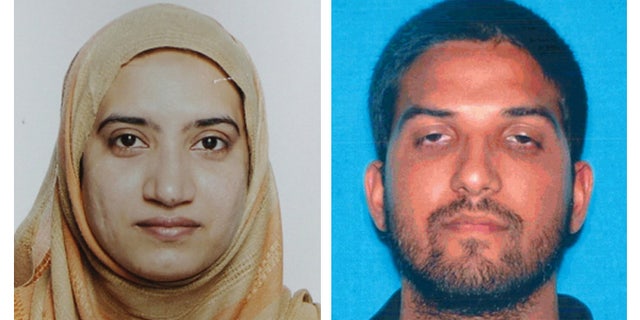 The female in a terrorist duo that killed 14 people in San Bernardino, Calif. on Dec. 2 came to the United States in a seemingly unconventional way, at least for those seeking to do harm to Americans.
Tashfeen Malik, who with her husband Syek Farook slaughtered people gathered for a holiday party at the Inland Regional Center, arrived in the United States last year on a K-1 visa, also known as a "fiance visa."
Farook was an employee of the Department of Public Health, the division that was having the holiday gathering. After being at the gathering and leaving abruptly, he returned with Malik, both of them heavily armed, and opened fire being killed hours later near their home by police.
While news that Malik, a Pakistani national, gained entry to the United States after being petitioned for a K-1 visa by Farook, who was a naturalized citizen, experts say that it is not a visa rife with exploitable loopholes.
Still, many are starting the question the program and whether it needs to be reevaluated.
Experts say that it is one of the more difficult visas to obtain, as U.S. authorities screen the couple for authenticity of their relationship, proof that they will be getting married, and for any information – such as past criminal activity and ties to terrorism – that would make them ineligible.
"It's a very detailed petition," said California immigration attorney Roman P. Mosqueda to the Los Angeles Times. "If you're getting married in a church, you have to show proof of getting a church date for the wedding, a date for the restaurant for the reception.... It's very strict."
House lawmakers passed legislation Tuesday tightening controls on visa-free travel and requiring visas for anyone who has been in Iraq or Syria in the previous five years. Some lawmakers said they also planned to re-examine the visa used by Malik. Immigration officials take roughly five months to review an application for a K-1 visa, which then is taken up by the U.S. State Department, whose part of the processing of the petition includes police checks, an interview with the fiancée, and a medical exam.
The couple must marry within 90 days of the fiancée arriving in the United States, then the visa holder may apply for a permanent resident card, more commonly known as the "green card."
Police checks are rigorous, experts say, and includes fingerprint checks and facial recognition software.
"It's not an easy procedure," the Times quoted immigration attorney Paul Herzog as saying. "Beginning to end, you're looking at at least six to nine months" from the date of application to the date of receiving a visa.
Some 25,000 people enter the United States each year on K-1 visas. The largest sending nation is the Philippines, which sends about 5,000 people, according to the Times.
Other countries that account for the largest groups of K-1 visa holders are China and Mexico, with more than 1,000 each, the Times reported, citing U.S. immigration data.
"The Philippines is one of the most difficult countries" from which to get a U.S. visa, said J Craig Fong, an immigration attorney, to the Times. "There are people in the Philippines with money, but the U.S. is wary that they'll come over and jump off the boat and disappear and go work in a restaurant. We won't give them a visa because we don't trust them."
Like us on Facebook
Follow us on Twitter & Instagram