Ex-President Clinton's presence seen as a plus for Hillary 2016 bid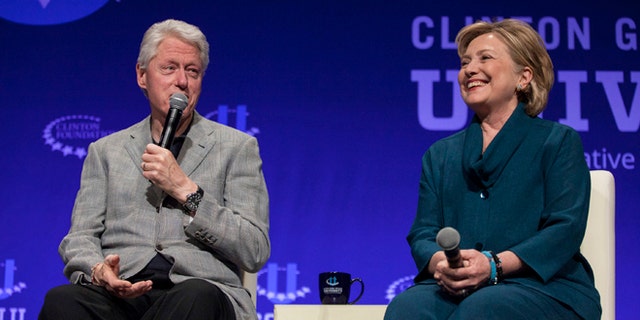 Hillary and Bill Clinton's visit next week to Iowa marks the former first lady's first trip to the key voting state since her failed 2008 presidential campaign and a likely reminder that any future vote for Hillary will also be one for the country's most powerful political couple.
The Clintons will officially be in Iowa on Sept. 14 to headline the Harkin Steak Fry -- an annual fundraiser for Democratic candidates that this year will honor Iowa Democratic Sen. Tom Harkin's retirement.
However, essentially every political observer thinks Hillary Clinton will run for president in 2016 as the clear Democratic front-runner and that the visit to Iowa is a step in that direction, considering Iowa's presidential caucuses will begin the 2016 nomination process.
Former President Bill Clinton is enormously popular among Democrats, with polling numbers that have remained high since leaving the White House in 2001, despite his late-1990s scandal involving then-22-year-old intern Monica Lewinsky.
A NBC News/ Wall Street Journal poll this spring showed him with a 55 percent approval rating, putting him in a tie with Pope Francis for one of the most popular world figures. Clinton left office with a similar rating.
"They are tied at the hip, and for the most part he will help her," says Ben Tulchin, a Democratic pollster and president of San Francisco-based Tulchin Research. "Bill is very good at firing up the base. And he has the best numbers of any Democrat, including Hillary. "
Hillary Clinton, a former secretary of State, finished second in the NBC/ WSJ poll, with a 44 percent approval rating.
Tulchin points out that Clinton was a huge asset to his wife's 2008 run until he attacked a top Democratic challenger, Barack Obama, on the eve of the New Hampshire primary.
"Give me a break. This whole thing is the biggest fairy tale I've ever seen," Clinton said about Obama's debate arguments that he used better judgment than then-Sen. Hillary Clinton regarding votes on the Iraq War.
Hillary Clinton won New Hampshire after suffering a surprising third-place finish several weeks earlier in Iowa.
Tulchin thinks the key to the former president helping his wife's likely presidential campaign is for him to avoid similar mistakes, and he offers some advice to Republicans trying to throttle the so-called Clinton political machine.
"I wouldn't attack him," he said. "I'd attack her. She has more negatives."
David Payne, a Republican strategist and a senior vice president at Washington, D.C.-based VOX Global, also thinks Bill Clinton will be an asset on the campaign trail and points to the NBC/WSJ poll.
"Given how out of touch Hillary Clinton has appeared this year -- complaining about how 'broke' she was earlier in her political career while dashing off to collect her next six-figure speaking fee -- having the former president at her side can only help," he said Saturday. "I'm confident that their joint appearance is one of many more to come, especially following the midterms when the 2016 campaign comes into view."
Still, not everybody is so sure about Clinton being an asset.
"He's a plus until people think of him wandering the corridors of the White House footloose, fancy-free and bored," Fox News contributor George Will said recently, apparently hinting at the Lewinsky scandal.
This will be Hillary Clinton's second appearance at the steak fry event, in Indianola, appearing with most other Democratic candidates in 2007.
"She's looking forward to campaigning for her Democratic friends and colleagues and to helping the effort to move America forward, including a stop to see her old friend and colleague Senator Harkin to help raise money for important races in Iowa," Clinton spokesman Nick Merrill told Politico.
Obama was the keynote speaker at the 2006 steak fry, which is now in its 37th year. And this will be Bill Clinton's fourth time at the event.
Clinton has said she intends to campaign for Democratic candidates this year. Iowa is the home of a key Senate race, with Democrat Bruce Braley opposing Republican Joni Ernst.
Iowa has had few visits from Democrats considering a 2016 presidential run. Vice President Biden came last year, and Maryland Gov. Martin O'Malley has visited this year, campaigning for Democrats. Though Clinton has not been in the state, the Ready for Hillary organization has been working in Iowa on her behalf.
The Associated Press contributed to this report.