Cities designate 'safe zones' to take the danger out of classified ad deals
NEWYou can now listen to Fox News articles!
Officials in one Dallas-Fort Worth suburb are hoping to take the "stranger danger" out of consummating sales hatched on Craigslist and other online classified forums by designating zones where both parties can feel safe.
While the online marketplaces help buyers find bargains and sellers turn unwanted goods into cash, they have also facilitated scams and even serious crimes. To help protect consumers and prevent future crimes, Bedford, Texas, and many other communities around the country are rolling out "online safe or exchange zones." They're designated areas in police or fire station parking lots that are well-lit and under constant video surveillance, where people can meet up to carry out these transactions safely.
"It's safe, it's monitored 24/7," said Natalie Foster, a spokesperson for the city of Bedford. "We have a live feed from the camera piped into our dispatch, which is staffed around the clock. The video is kept for 30 days and it also has infrared. So at nighttime, even though the parking lot is really bright and lit up, it's capturing everything."
" ... the problem now is that predators have figured out that Craigslist, specifically, is another opportunity to get access to actual humans."
Foster said officials hope to protect citizens from the kinds of dangerous deals that have made headlines, including recent cases:
- In January, an elderly couple was murdered in Georgia after answering a fake online ad for a vintage car. Sixty-nine-year-old Elrey Runion and his wife, June, drove nearly 200 miles from their home to meet the person who allegedly posted the ad. Days later, their SUV was found submerged in a lake and a 28-year-old was arrested for the crime.
- In March, a 26-year-old expectant Colorado mother answered a Craigslist ad for gently used baby clothes. When Michelle Wilkins showed up at the purported seller's home, police say 34-year-old Dynel Lane cut the victim's unborn baby from her womb. Wilkins survived, but her baby did not.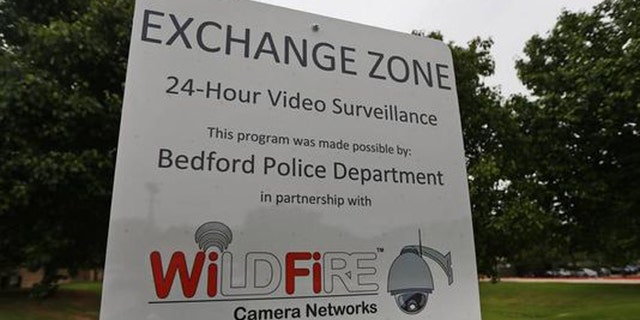 "Scammers have known for quite some time that online classified sites and auction sites are great opportunities for low-hanging fruit to scam people," said security and identity theft expert Robert Siciliano, of Hotspot Shield. "But the problem now is that predators have figured out that Craigslist, specifically, is another opportunity to get access to actual humans. And not just get them for their money, but actually compromise their physical security as well."
Foster said a resident recently wrote the local police chief explaining how she was trying to sell a boat online and when she suggested meeting the person who contacted her, they never showed up to the exchange zone. Officials believe it could have been a potential crime that was thwarted because of the seller's insistence on utilizing the city's new service.
"Our main goal is safety, preventing future crime," Foster said. "That's what we want to do -- not just for our community but for everybody around the area."
Inviting a stranger to your house or going to theirs is never a good idea, according to Siciliano. For buyers and sellers in communities that don't have safe zones, he suggested meeting in a public place and bringing a friend along.
"One of the best tips is definitely incorporating the buddy system," Siciliano said. "Without a doubt, there is strength in numbers."