Chilean and Peruvian Presidents Head To U.S. As Biden Heads South For Talks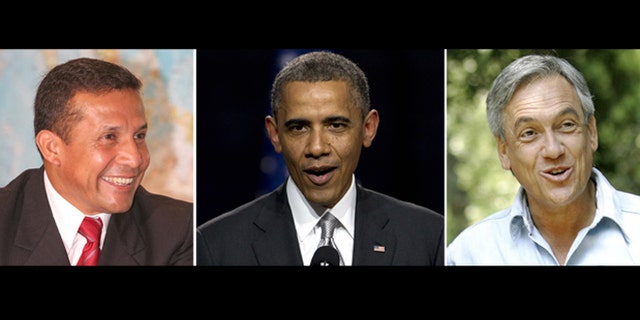 Washington – On the heels of President Barack Obama's trip to Mexico and Costa Rica, the White House will continue to focus on its southern neighbors with upcoming visits from two Latin American heads of state and a trip to the region by Vice President Joe Biden.
Peru's President Ollanta Humala and Chile's President Sebastián Piñera will travel to Washington in June to meet with President Obama, the White House said Wednesday. And next week, Biden will make stops in Brazil and Colombia, plus the Caribbean nation of Trinidad and Tobago.
The visits reflect the administration's desire to show the U.S. relationship with its neighbors to the south is about much more than drugs, crime and illegal immigration. The need for closer economic ties topped Obama's agenda during his three-day trip last week to Mexico and Costa Rica.
"All told, we will have the most active stretch of high-level engagement on Latin America in a long, long time," Biden said Wednesday at the State Department. "There are so many opportunities. There's so much more we believe we can do."
Of intense interest to leaders and citizens in Latin American countries is the immigration overhaul advancing tenuously through Congress. Obama is largely supportive of the bipartisan bill, which would strengthen borders and provide a pathway to citizenship for many of the 11 million people in the U.S. illegally — most of them from Latin American countries.
The June 4 visit by the Chilean leader will focus on regional cooperation on education, the economy, energy and the environment, the White House said. A similar roster of topics was set to dominate the session with Peru's president on June 11.
High on the agenda for both meetings will be negotiations over the Trans-Pacific Partnership, an Asia-Pacific-wide trading bloc meant to open markets to wider trade. Peru and Chile are members, as are Mexico and Canada. The pact is key to Obama's vaunted strategy to forge closer ties to Asia as China and other regional nations gain economic clout.
Ricardo Zúñiga, who heads Latin America policy for the White House's National Security Council, said the U.S. wants to make sure other countries in the Western Hemisphere aren't left out of that process.
"The countries in the Americas are more active global players," Zúñiga said. "We're running into each other in more parts of the world and in more multilateral organizations."
In Colombia, Biden will meet with President Juan Manuel Santos for a security-focused discussion that will also touch on economic issues. Although Colombia isn't initially part of the trade partnership with Asia, Zúñiga said, the U.S. has been supporting Colombia's aspirations to join the Organization for Economic Cooperation and Development, or OECD. The U.S. also wants to show it supports peace talks between Colombia's government and the Revolutionary Armed Forces of Colombia, or FARC, taking place in Cuba.
Brazilian President Dilma Rousseff will host Biden for meetings there focused on the economy, the White House said. In Trinidad and Tobago, an archipelago off the coast of Venezuela, Prime Minister Kamla Persad-Bissessar is inviting leaders from numerous Caribbean countries to talk economic collaboration and security with Biden.
Based on reporting by The Associated Press.
Follow us on twitter.com/foxnewslatino
Like us at facebook.com/foxnewslatino