Heidi Klum Doesn't Plan to Bare Post-Baby Bod for Victoria's Secret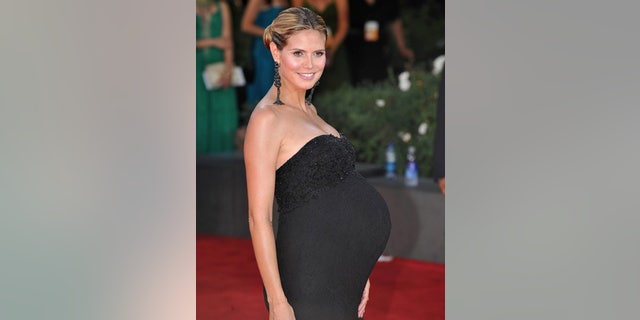 LOS ANGELES – Heidi Klum Believes Parents Are Responsible For Eating Disorders | The Real Reason Brody Jenner Didn't Attend Khloe Kardashian's Wedding…? | Kanye Storms Another Stage | Pop Tarts Scene & Herd
Heidi Klum Believes Parents Are Responsible for Eating Disorders
As one of the world's greatest supermodels Heidi Klum has undoubtedly been around a litany of eating disorders in her time. However, she doesn't blame the fashion and entertainment world for models' problems. Klum said it's the parents' role to instill healthy habits.
"You can't look at Hollywood and blame it, you have to make up your own mind whether you want to be fit, or super skinny. You can't blame other people. It's your own choice and if you have children, it is up to the parent to educate your children so they are healthy and they don't go into a direction of anorexia or obesity," Klum said at the recent L.A. Confidential Magazine party to celebrate her cover. "It is up to you as a parent, it is hard to feed children right. I deal with it on a daily basis; it is much harder to make sure they eat right."
PHOTOS: Click for pics of Heidi Kulm on and off the Victoria's Secret catwalk.
On the note of educating young ones, Heidi and hubby Seal recently attended the Los Angeles launch of Bill Gates's "Get School" initiative (designed to bring together students, families and community leaders to reform education across America) and it turns out that ironically, the supermodel/TV host/entrepreneur actually has some concerns about showbiz careers.
"When you hear that every 26 seconds drops out of school you get worried. You want them to stay in school and you want them to have a vision of what they want to be and give them ideas and encourage them. I definitely want to get involved and do that, think about job ideas," Klum explained. "Nowadays children look at everyone in the magazines and they want to be a basketball star or on a television show, but there is only so many people who can do those things and not that you shouldn't aim or dream for these things, but there are so many other fantastic jobs. So it's good to talk about how to get there and how difficult it is to get there."
The glowing 36-year-old is almost nine months pregnant with number four and is busy trying to tame the other three who excitedly jump on her big belly because they "don't really understand there is actually a real human being in there." But sadly, Klum doesn't know if she'll be back to her bikini body in time for the annual Victoria's Secret Fashion Show in November.
"I have to play it by ear; I might be cutting it a little short this time. I'm still going to have my Halloween party, that's okay because I can put a big costume on but walking in a g-string is a little hard," Klum added. "It's all cute when you're pregnant, but once you've had the baby it's not so… well, it takes time."
The Real Reason Brody Jenner Didn't Attend Khloe Kardashian's Wedding…?
Despite being Khloe Kardashian's step brother and a regular fixture on "Keeping Up With the Kardashians," Brody Jenner was a surprise no-show at her quickie wedding to Lamar Odom on Sunday. And while Jenner has come out and said it was because he had to fly to New York for an early morning MTV interview, Tarts has been told that it had more to do with the fact that it was because his former friend Joe Francis was attending the event instead.
"Joe is really close with Khloe and the family, I guess it kind of pushed Brody out," said an inside source, adding that the "Girls Gone Wild" founder even tried to take it upon himself to throw a Bachelor party but the LA Laker's peeps pulled the plug for fear it could harm his reputation.
Jenner's girlfriend Jayde Nicole filed a one million dollar lawsuit against Francis last week for "assault and battery," stemming from a bar brawl in which Jenner was also allegedly embroiled in.
But back to the wedding, it seems it was quite the matrimonial advertisement - not only were the E! cameras rolling but we're told that in the days leading up to it organizers were "selling it off like crazy" and madly seeking sponsors for everything from liquor to photos to printing and were "asking a lot of money."
So will it be the corporations that lose out in the end?
According to Bookmaker.com, odds skew 45 percent that the nuptials will last one to five months while 25 percent of punters give it one to two years and only 20 percent think they will make the two year mark.
Kanye West Storms Another Stage
Common, Nas, Ludacris, Mos Def and Queen Latifah took the stage at the Hollywood Palladium on Saturday night to help raise funds for the Common Ground Foundation - but backstage the buzz was all about Kanye West who we're told appeared "really nervous" while trying to keep a low-profile and thanking anyone who would bother to listen.
Common told the sold-out crowd that he asked his buddy West to perform for the charitable cause but with all that happened with him and the backlash he received from the VMAs (oh, poor Kanye) he sent his love and apologized he wasn't able to make it. But despite recently vowing to take a break from the limelight, West couldn't help himself at the event.
"He stormed the stage and everyone went insane," a partygoer told Tarts. "After the show he seemed much more outgoing, back to his old self…"
Hmmm, so is that a good thing?
Meanwhile his girlfriend Amber Rose hung chilled on the VIP couch, Common's leading lady Serena Williams who was celebrating her 26th birthday.
Pop Tarts Scene & Herd
Shannen Doherty getting her color done by Adam Scheib at Prive Salon LA on Friday while Kim Kardashian had her hair trimmed with stylist Philip Wolf.
Creed lead singer Scott Stapp commenting during a press conference before the band's show in Houston on Friday. ROCKPIT.com has aligned with the USO to bring the concert to troops overseas by streaming the show shot with a record breaking 239 cameras!
Ali Landry hosting the Matters on Design VIP event while enjoying the Rose's Cocktails hosted bar on Saturday evening. Diddy and Lebron James also enjoyed the new 2 million dollar Lincoln prototype as Matters On Design launched at The Grove.
Common, Nas, Ludacris, Mos Def, Queen Latifah taking the stage to help raise funds for the Common Ground Foundation at the Hollywood Pallidium on Saturday night. But the star of the show was surprise performer Kanye West, who appeared humble and nervous backstage before captivating the sold-out crowd.
Former PEEPSHOW cast member, Mel B observing her predecessors during the 8:00 p.m. performance of the topless Vegas show on Saturday night.
Naughty by Nature rocking the stage with a blowout performance at Hawaiian Tropic Zone inside Miracle Mile Shops, Las Vegas on Saturday night while joined for a few songs by rapper Coolio.
Kid Rock out and about in Nashville on Saturday night while in town to attend the wedding of Holly Williams, the daughter of his good pal, Hank Williams, Jr. Kid Rock stopped by his favorite honky-tonk, Tootsies Orchid Lounge with John Rich, where the notorious bad boys were reportedly on good behavior, enjoying cocktails in the famous corner booth before surprising the packed bar with a performance together on stage.
Sofia Coppola with her baby and baby's father in Soho on Mercer St. right below Prince on Sunday afternoon.
Tom Cruise playing with s a football on the sidelines before the Washington Redskins and the Detroit Lions NFL football game in Detroit on Sunday. 
Dara Torres at The Sports Club/LA in West LA Monday morning working out heavily on those already fabulous abs before hitting the pool! The day before Shaq did a little Gyrotonic training.
Dave Navarro lunching at West Hollywood's Cafe Primo with a hot blonde model on Monday.
Reverend Al Sharpton taking control of WWE® Monday Night Raw as the latest celebrity guest host live from Times Union Center in Albany, NY.
Janet Jackson chatting during the auction portion of the amfAR charity dinner during fashion week in Milan, Italy on Monday.  
Mariah Carey looking stunning before appearing on the "Today" show in New York Tuesday ahead of the release of her new CD "Memoirs of an Imperfect Angel." 
US Airways Flight 1549 pilots Sully Sullenberger and Jeff Skiles and Harrison Ford pose as Ford announces the pilots as his successors to EAA Young Eagles Chairman Post in Santa Monica on Tuesday. The event honored Ford, who has served for five years as the chairman of this philanthropic program that uses aviation to inspire and educate youth, and welcomed Sullenberger and Skiles as new EAA Young Eagles co-chairs