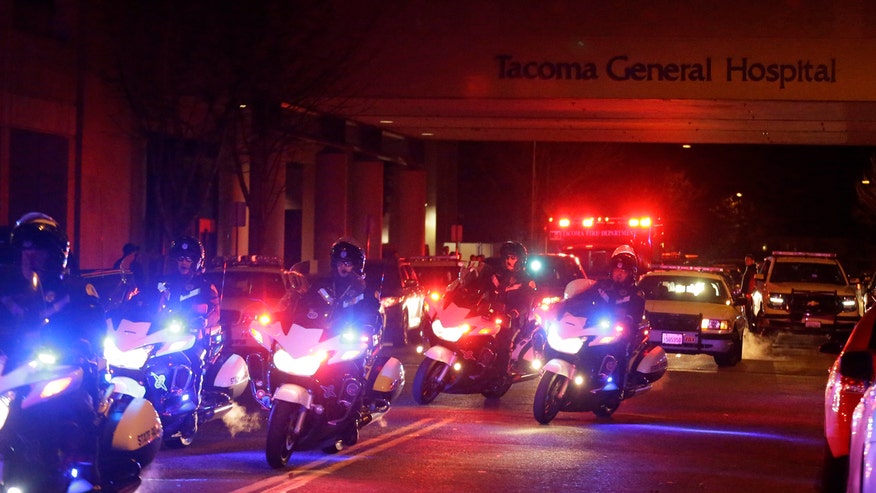 A Tacoma, Wash., police officer was shot and killed late Wednesday while responding to a domestic violence call that prompted an hours-long standoff with the suspect, who had barricaded himself inside the home.
According to the Officer Down Memorial Page website, at least 132 officers have died in the line of duty -- 59 because of gun violence -- this year. Twenty officers died in November, marking the highest monthly tally in 2016 so far.
California and Texas have seen the most officer deaths this year.
Of the dozens of cases in which officers were gunned down by suspects, a handful have resulted in a long standoff where the suspect was barricaded inside a home.
In early October, Palm Springs, Fla., officers Gil Vega and Lesley Zerebny were shot and killed while responding to a domestic disturbance call.
The man inside the home opened fire as officers approached the front door, killing Vega, a 35-year veteran on the force and Zerebny, who had just returned from maternity leave. He also wounded a third officer.
The suspect, later identified as John Felix, barricaded himself inside the home for approximately 12 hours before he was taken into custody by members of the Riverside County Sheriff's Office SWAT team.
In February, Fargo, N.D., police officer Jason Moszer, 33, was shot and killed while responding to a domestic violence call. The suspect, who was armed with multiple long guns, barricaded himself inside the home. After an 11-hour standoff, the suspect's body, which exhibited a gunshot wound, was located inside the home.
On Thursday, Tacoma Police spokeswoman Loretta Cool said the officer, who still hasn't been publicly identified, was pronounced dead at the hospital.
"We've suffered a great loss and I think the community has suffered a great loss. I don't know how to put that into words," Cool said.
Early Thursday morning, a shootout between the suspect and Tacoma police led to the officer's death. Two children inside the home were rescued, officials told Fox News.
It wasn't immediately clear what led up to the shooting.
The Associated Press contributed to this report.