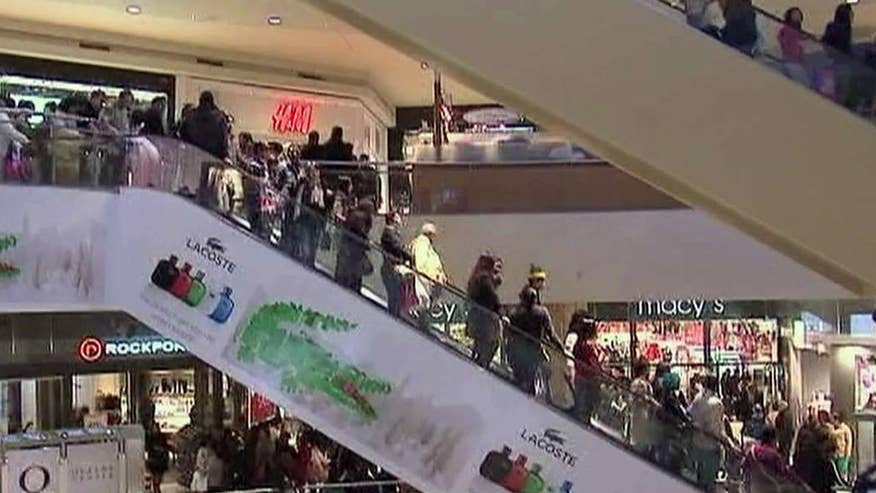 Shoppers at the Mall of America in Bloomington, Minn. were greeted by a brand new Santa Claus while holiday shopping over the weekend.
For the first time in the mall's 24-year history, a black man is playing the role of the North Pole's most notable gift-giver.
"This is a long time coming," Landon Luther, the co-owner of the Santa Experience, which has run the photo studio at the mall for 10 years, told the Minneapolis Star Tribune.
"We want Santa to be for everyone, period."

Luther says he began looking for a different St. Nick in spring.
He found Larry Jefferson, a retired U.S. army veteran from Irving, Texas, after attending a Santa convention in Missouri. Nearly 1,000 impersonators convened for the "Kringle Family Reunion" during the summer.
Jefferson soon signed a four-day contract to work in Minnesota, after which he'll head back home to work the seasonal circuit in Dallas.
His skin color, Jefferson said, hasn't played a role in his interactions with the children on his lap.
"What they see most of the time is this red suit and candy," he told the Tribune. "[Santa represents] a good spirit. I'm just a messenger to bring hope, love and peace to girls and boys."
But soon after news of Jefferson's debut made headlines, there was a flurry hateful reactions denouncing the choice. Some even called for a boycott of the mall.
Here's a sampling of the racist backlash set off when @mallofamerica hired its first black Santa this year https://t.co/Z40P6MmQ2x pic.twitter.com/5fjpPhpJvr

— Borzou Daragahi (@borzou) December 4, 2016
The Tribune was even forced to disable the comments section on its article due to a series of racist comments.
Looks like we had to turn comments off on story about Mall of America's first black Santa. Merry Christmas everyone!https://t.co/BQVm24DH6y

— Scott Gillespie (@stribgillespie) December 2, 2016
But many others online were enthusiastic about the mall's choice and expressed excitement at being able to pay black Santa a visit.
I appreciate the @mallofamerica having a Black Santa who reflects the diversity of its patrons. More malls should follow suit.

— April (@ReignOfApril) December 2, 2016
The Mall of America has a black Santa and racists done lost their minds. #SantaLarry is awesome! He's also a vet and deserves respect! pic.twitter.com/Rss6RC5UZs

— Mark Buchanan (@therealmarkb) December 4, 2016
Watching people meltdown over a Black Santa in the Mall of America. "Santa is white!" Well, in our internment camp he was Asian. So there.

— George Takei (@GeorgeTakei) December 3, 2016
Neither Luther nor Jefferson have been deterred by negativity.
"It was like finding a needle in a haystack," Luther said of finding Jefferson.
"He considers himself a Santa for all."
A representative for the Mall of America was not immediately available for comment Monday.