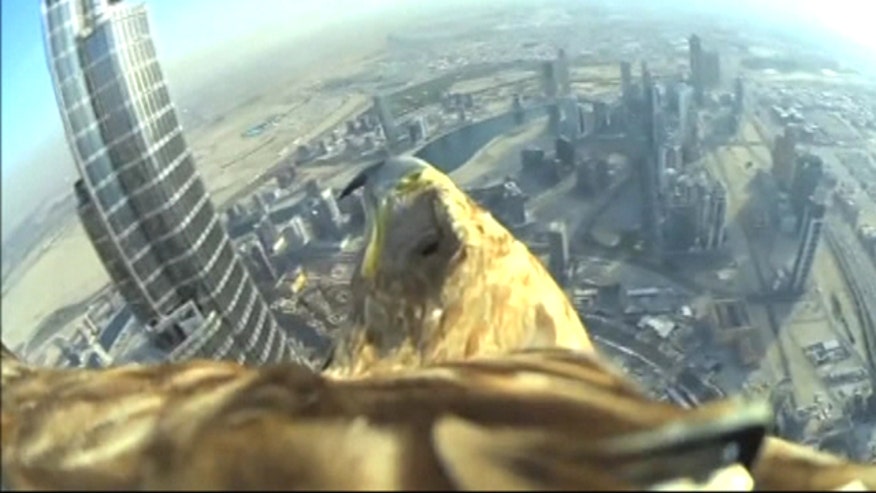 Darshan, an imperial eagle, is giving YouTube viewers a bird's-eye view of the world's tallest building. Freedom Conservation, a conservation group founded by falconer Jacques-Olivier Travers that aims to raise awareness of the plight of threatened birds of prey, strapped a camera on the back of the bird and live-streamed its flight from Burj Khalifa in Dubai – the world's tallest skyscraper. The conservation group claims this is the highest recorded flight captured from a man-made structure.
WATCH: Bird Flying at 60 MPH on the Freeway
The video features impressive views of Dubai, as the bird swoops down a staggering 2,722 feet to a waiting Travers on the ground. The video was streamed in real time by BBC News.
Darshan was outfitted with a Sony Action Cam Mini that only weighed about 0.6 pounds for his steep descent. The camera might be small, but it still equals about 10 percent of the eagle's weight, the BBC reports.
With its stunning aerial views of the most populous city in the United Arab Emirates, the video might seem like a mere stunt, but the bird protection group asserts that publicity generated by the video is crucial in emphasizing the need to protect the birds.
"The eagle is a signal that things can change," Freedom Conservation Director Ronald Menzel told the BBC. "It was once endangered, but after conservation program it is not so endangered."