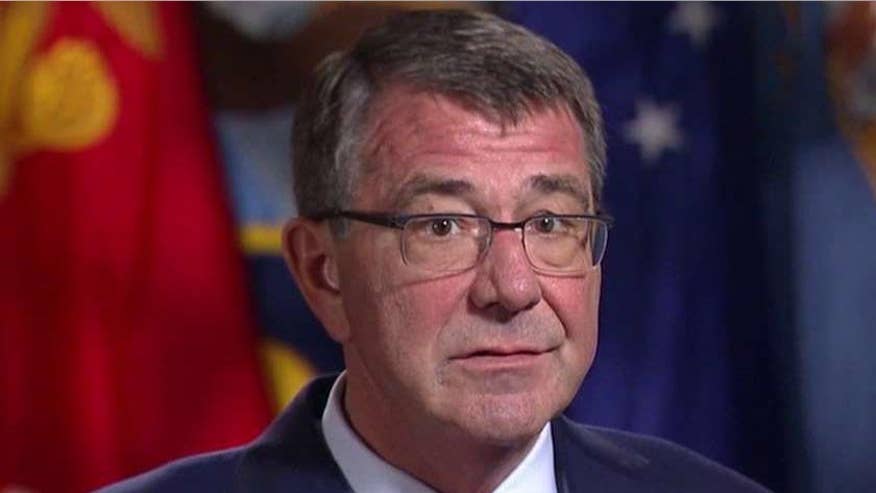 Defense Secretary Ash Carter said Thursday that ISIS is a cancer that needs to be defeated 'as fast as we can,' and that he has told coalition allies that they have to "do more" in the fight to defeat the Islamist terror group.
Carter spoke on Fox News' "Special Report with Bret Baier" just days after the U.S. expanded airstrikes to include targets in Libya, and a classified White House map leaked to NBC News revealed that ISIS is now fully operational in 18 countries.
Carter said that while the fight against ISIS needed to go "anywhere the cancer metastasizes," he said that the main focus would be in Iraq and Syria.
"So they have to be destroyed and defeated in Iraq and Syria, that's where this whole cancer started," Carter said. "And you've got to destroy it there. But as you say, it's not enough, because it's spread to Afghanistan, it has spread to Libya."
The airstrike campaign against ISIS forces in Libya began Monday, targeting forces in and around the town of Sirte. President Obama said it had been initiated on the request of Libyan authorities.
"Well, that's where ISIL is. It's a town called Sirte," Carter said. "And that's where they're concentrated. And the targets we hit when the Libyan forces identify them. And they do that. I'm certain there will be more."
Carter said he also met two weeks ago with defense ministers from other coalition countries at Andrews Air Force Base and urged them to up their game so the group can be defeated as quickly as possible.
"I said 'look guys and gals, we need you to do more. You know we're doing more. We're trying to accelerate what is the certain defeat of ISIL. You've got to get in the game and do more. Because we need to win as fast as we can,'" he said.
Carter said he had spoken with two of five American troops shot in a massive three-day battle with ISIS forces in Afghanistan, in which hundreds of ISIS fighters were reportedly killed by 150 American soldiers. He called their actions "heroic."
"They're definitely in combat. That's how you get shot. Their purpose is counterterrorism. They were after a group of terrorists coming into Afghanistan," he said.
Carter also did not rule out more American troops being sent to Iraq. He said that there are about 3,500 U.S. forces there, along with 3,500 coalition forces, to enable the Iraqi Army to take back the country, but that he couldn't predict whether or not more would be needed.
"So if more is required…I will go to the president with the chairman of the Joint Chiefs of Staff, as I have, and if he's done like he's done so far, he'll say go for it because we need to get this done quickly," he said.