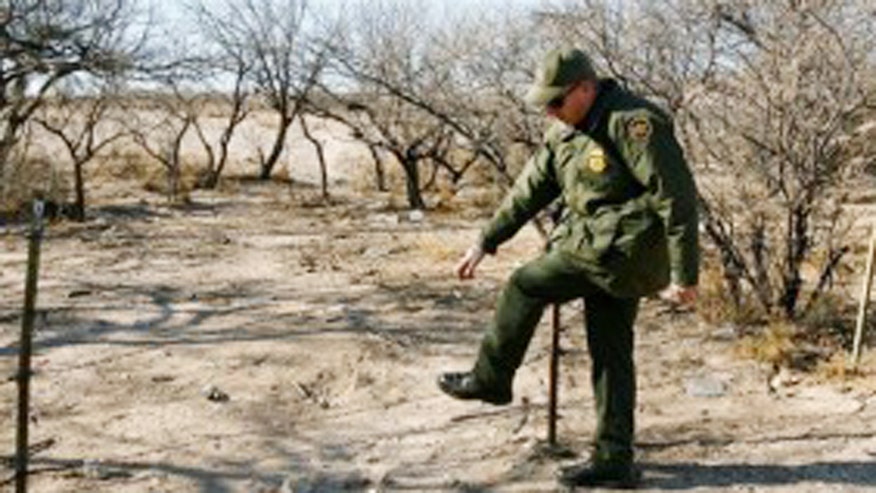 Recent apprehensions of illegal immigrants from the Middle East and South Asia along the southern U.S. border have renewed security concerns in the region, amid claims that Phoenix in particular is becoming a "hotbed" for terror recruiting and activity.
One source told Fox News the FBI even briefed Phoenix police two weeks ago to notify them that the Islamic State is trying to recruit "high-school age students."
Agents are on the look-out for any suspicious activity. Fox News has learned Border Patrol agents in Arizona caught three Saudi nationals last Saturday trying to evade a highway checkpoint. They were detained in an area considered one of the hottest smuggling routes in the U.S. and just a few miles from where, two days later, agents arrested five Pakistani nationals and one Afghani trying to enter the U.S. illegally.
"When it comes to terrorism there are no coincidences, and that fact that three Saudi Arabians were detained in the same area … days before Pakistanis and Afghans were arrested in the same area isn't coincidence," said Brandon Judd, president of the National Border Patrol Council.
The Border Patrol called the FBI, which responded with Homeland Security Investigations, and officials took custody of the Saudis. The three did not have required identification on them at the time but told agents they entered the U.S. on student visas to attend the University of Arizona. That turned out to be true.
Yasmeen O'Keefe, an Immigration and Customs Enforcement spokeswoman in Phoenix, said if the men had valid visas, they were likely questioned and released.
The Afghani and Pakistanis apprehended elsewhere in Arizona were mixed in with a group of more than a dozen Mexican immigrants and two smugglers, Customs and Border Protection said in a statement. Members of the Joint Terrorism Task Force were dispatched to interview the illegal immigrants, but CBP said, "Records checks revealed no derogatory information about the individuals." The two smugglers, meanwhile, fought with the arresting agents and now face charges; the Pakistanis and Afghani remain in CBP custody as witnesses.
The incidents come at a time of heightened alert, in the wake of last week's Paris terror attacks. While officials found no "derogatory information" on the individuals, the threat along the border is still being taken seriously. In a separate development, Fox News learned Friday that the FBI briefed Phoenix police in Precinct 900, also known as "Cactus Park," two weeks ago, just before the Paris attacks.
The agents said "ISIS was recruiting high-school age students and the bureau wanted us to know what to look for," said a source, who was not authorized to speak for the department. He said the briefing was unusual in that it only applied to high schools in a small area of north Phoenix.
"Officers are routinely trained to recognize and identify all types of criminal activity -- narcotics, prostitution, DUI, criminal gangs -- but not Islamic jihadist activity," said Mark Spencer, a former Phoenix police officer of 25 years now with Judicial Watch. "This briefing in Phoenix would have provided information of great value to the front-line rank-and-file police personnel who patrol an area directly impacted by an unsecure Southern border and thus terrorist related crossings. Phoenix is becoming a hotbed."
That sentiment was echoed by a high-ranking Phoenix officer who attended the briefing. "The FBI says Phoenix is a hotbed and very active, lots of chatter on the airwaves," the officer said.
The location, just north of Cactus Road and west of I-17, happens to be in the former neighborhood of Elton Simpson and Nasir Soofi. The two men were killed after trying to ambush an event featuring controversial cartoons of the Prophet Mohammed in Garland, Texas. Simpson and Soofi shared an apartment in the Autumn Ridge complex and attended the Islamic community center nearby. They were believed to be sympathetic to Islamic terror groups such as ISIS.
The FBI downplayed the recent briefing, issuing this statement: "The FBI routinely provides briefings and shares information with our local, state, federal, and tribal partners regarding various issues in our area of responsibility."
Another agent said the briefing reflects the new normal -- a new emphasis by the bureau to be proactive, rather than reactive, with local law enforcement, especially when countering violent extremism.
William La Jeunesse joined FOX News Channel (FNC) in March 1998 and currently serves as a Los Angeles-based correspondent.