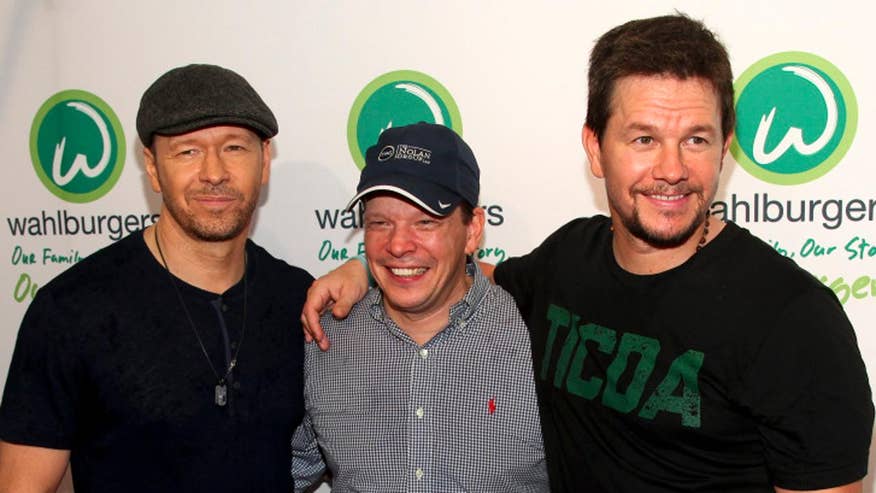 For the Wahlbergs, burgers are a family affair.
"Patriots Day" actor Mark Wahlberg and his brother Paul recently celebrated the opening of their family-style burger joint, Wahlburgers, on the Las Vegas Strip. Though the chain's Sin City outpost has actually been open since July 2016, the busy brothers had to postpone the grand opening festivities until this Tuesday due to their hectic schedules.
While waiters offered samplings of the burgers and tater tots to the large crowd of fans outside of the Grand Bazaar Shops at Bally's, Mark told Fox News that he was excited to be bringing his burger joint to Vegas.
"I want to be here in Vegas at Wahlburgers with the people, baby. This is what we're doing!"
The youngest Wahlberg brother also shared a key ingredient to the growing brand's success-- and it all boils down to family.
"We have a partnership," said Mark. "My focus is on the business, Paul's focus is on the menu and the customer experience, and we don't interfere with one another."
The star-studded event was also attended by Las Vegas magicians Penn and Teller, as well as the city's Mayor, Carolyn Goodman.
WAHLBERG BROTHERS SUED BY BURGER RESTAURANT PARTNERS
Wahlburgers offers a variety of sandwiches, salads, vegetarian options, home-style side dishes, and, of course, fresh burgers topped with house-made condiments. Other signature items include Mom's Sloppy Joe, thin crispy onion rings, tater tots, and creamy frappes and floats.
Guests can sit down and enjoy full table service, order quick-serve style at the counter, or grab take-out.
Mark, Paul, and their brother Donnie opened the first Wahlburgers location in 2011 in the Boston suburb of Hingham, Mass., close to where the brothers were raised. The franchise has since expanded to 15 restaurants in seven states.
The chain has been bolstered by the success of the brothers' A&E reality series "Wahlburgers," which delves into the day-to-day operations of the restaurant — and follows the brotherly antics of its owners.
FOLLOW US ON FACEBOOK FOR MORE FOX LIFESTYLE NEWS
Mark jokingly described his sibling camaraderie with Paul, saying, "I don't even have to go in the kitchen unless I gotta teach him how to make egg whites and pancakes, show him the basics."
During his time in Vegas, Mark also made an appearance at CinemaCon, a conference showcasing the newest technology and products in the theater and film industry, to promote his latest film, "Transformers: The Last Knight," out this June.
Andrew Craft is a Fox News multimedia reporter based in Las Vegas, Nevada . Follow him on twitter: @AndrewCraft