Venezuela's #2 says DEA 'kidnapped, not arrested' two nephews of first lady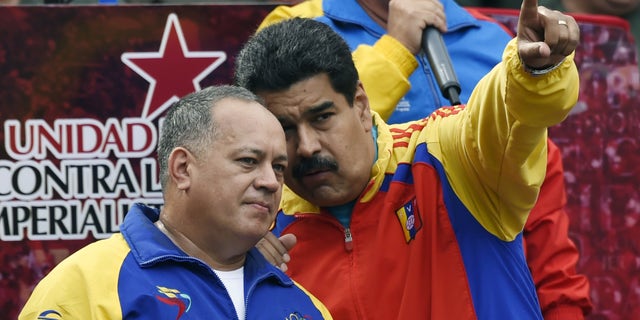 The President of Venezuela's National Assembly, Diosdado Cabello, called into question the arrest of two nephews of first lady Cilia Flores during a DEA operation in Haiti.
"I do not see it as an arrest, they kidnapped two people," said Cabello, widely considered the government's No. 2 after President Nicolas Maduro.
In an interview broadcast from the northern state of Monagas, Cabello said there is no direct link between Efrain Campos and Francisco Flores, the two men arrested, and President Maduro.
"A plane arrived in Haiti with six people and two [of them] were kidnapped," he said, in the first official remarks on the matter made by a Chavista official.
"What the DEA has done in this case is very irregular and it is the DEA's normal procedure to kidnap people in many places," he added.
Cabello, who is seeking reelection in next month's vote, also denied that one of the two nephews was raised in President Maduro's household, as some have speculated.
The case also comes just three weeks before key legislative elections that opinion polls have been suggesting could hand the ruling party its worst defeat in 16 years as Venezuela's struggles with triple-digit inflation and widespread shortages of basic goods.
"The timing is hardly ideal," Michael Shifter, president of the Washington-based Inter-American Dialogue think tank, said in an email after the arrests were revealed Wednesday. "The arrests could give Maduro the excuse he was hoping for to declare a state of emergency and postpone the elections. He will blame the arrests on U.S. imperialism and see them as an attempt to undermine his government."
The AP contributed to this report.
Like us on Facebook
Follow us on Twitter & Instagram