USO Woman of the Year Empowered Afghan Girls, Awarded a Purple Heart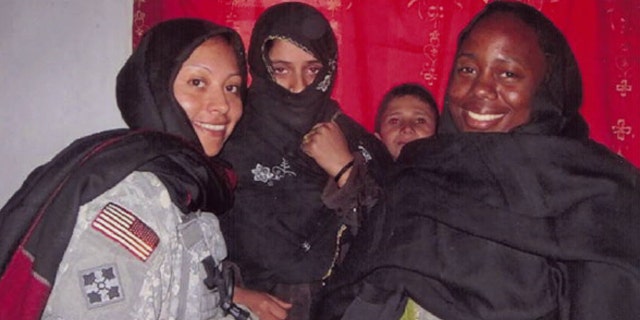 She never saw it coming.
The Army sergeant, travelling in her Humvee in the Pash River Valley in Afghanistan, was blindsided by two RPGs that exploded near the military vehicle. A deadly ambush erupting around her, the medic for the platoon desperately tried to tend to her comrades' wounds.
But the sharp stinging burn of shrapnel cut into her hands – the pain, an afterthought – until help arrived.
"He just kept shooting back," the brave soldier remembered, referring to a fellow soldier. "We were in a direct fire fight for about an hour."
For Army Staff Sergeant Tannia Carter, this was but one day of the four years she spent as part of her deployment in Iraq and Afghanistan. The episode of bravery earned her a Purple Heart – but it's just a small window into the extent of her contributions for the country she loves.
The Mexican-American, who was honored as one of five 2011 USO Women of the Year, added additional responsibilities to her everyday tour. While in Afghanistan, Carter made the conscious decision to take a lead in the Army's Female Engagement Team, a group of women tasked to empower local Afghan women on ways to better their everyday lives.
"We did things like give them supplies for doing things, such as rug weaving," Carter explained. "We gave them sewing machines [and] handed out pamphlets on how to take care of their livestock."
Attached to a male infantry unit, Carter and the Female Engagement Team would go out to local villages twice a month to some of the younger female Afghanis.
"Most of the women were married at 13," she said. "There was one midwife that really stuck up in my mind. She helped deliver a lot of babies in a hospital and the hospital didn't have any electricity or a sewage system."
As a medic, Carter would treat women for issues ranging from headaches to pregnancies. Although surgical treatments were forbidden, they did the best they could to take care of the pain.
Ironically, one of her fondest memories has nothing to do with how many bandages she used, and everything to do with the pink glitter scarves she'd buy from the local market for young local girls.
"If I saw a bunch of girls I'd stop the convoy," Carter said. "The little girls were about five and six years old, and they loved the new beautiful scarves."
The experiences are engrained in her head, but throughout her 48 months of total deployment thus far, home is always on the mind.
Born in Mexico City – to a mother who has 14 siblings – family is everything to Carter. Her father worked delivering pizzas, cleaning offices with her mother, both picking up English by listening to radio and watching television. Her dad went from living to an apartment to residing in a beautiful suburban home.
Yet with all his success, the thing that makes him most proud is his little girl.
"My dad is the most proud father you'll ever meet. He will introduce me as: 'This is my daughter, she's been to Afghanistan.' He is just super proud. I love my parents to death," she said.
Ultimately, Carter has no idea when she will retire, though she's committed to becoming a police officer. But it appears the love of country has taken root in her own eight year old son, Tyler.
"He wants to be a scout," she says. "He even named our dog Ranger."
Correction: A previous version of this article used the word "won"to refer to the award of the Purple Heart.
Contact Bryan Llenas at Bryan.Llenas@foxnewslatino.com or on Twitter @LlenasLatino.