Uganda officers court-martialed over alleged coup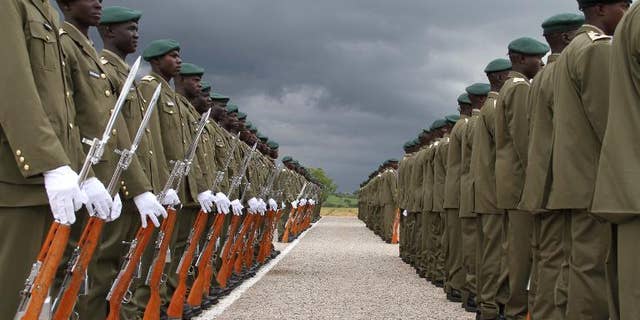 NEWYou can now listen to Fox News articles!
Kampala (AFP) – Four Ugandan army officers have appeared in a military tribunal on charges of plotting a coup against President Yoweri Museveni, their lawyer and the military said Saturday.
"They appeared before the General Court Martial yesterday on charges of plotting to overthrow the government by force of arms," their lawyer Ladislaus Rwakafuuzi told AFP.
"They have been in detention since May 5 but the court chairman denied them bail, claiming they are young and can be lured into a rebellion... They are denying the charges and we are appealing against the ruling," the lawyer said.
The details of the alleged plot against Museveni, who has been in power since 1986, were not divulged but an army spokesman said the suspects worked in the office of former coordinator of intelligence services, David Sejusa Tinyefuza.
"As serving officers they were supposed to report to the army leadership acts of subversion but they did not and actually took part," Colonel Paddy Ankunda.
Tinyefuza left Uganda in April after writing a letter alleging there was a plot to assassinate government and military thought to be opposed to purported plans by Museveni to groom his son for succession.