Troubled Puerto Rican cop accused of killing fellow officers was shot by victim's husband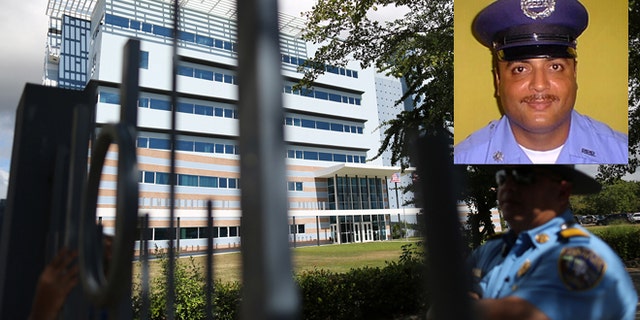 SAN JUAN, Puerto Rico (AP) – The policeman who allegedly shot three fellow officers to death at work underwent psychological treatment for a decade and had faced three separate investigations for insubordination and unexcused absences, a Puerto Rico police spokesman said Tuesday.
Guarionex Candelario Rivera had been on sick leave for most of December when he showed up unannounced Monday at the station in the southern coastal city of Ponce to demand a meeting with the colonel who oversees the department, Sgt. Axel Valencia told the Associated Press.
Col. Héctor Agosto was returning from vacation, so he said Candelario should meet instead with Lt. Luz Soto Segarra, who was one of the officers later shot to death, Valencia said. It was unclear why Candelario, a 19-year police veteran, requested the meeting, the spokesman said.
Authorities previously said Candelario took Soto hostage along with Cmdr. Frank Román Rodríguez and policewoman Rosario Hernández de Hoyos, then shot them.
Candelario himself was shot twice during the incident and is hospitalized with a bullet lodged in his thorax and another in his arm, Dr. Israel Ayala told reporters earlier Tuesday. He said the 50-year-old suspect might have to undergo surgery but was expected to recover.
Associate Police Superintendent Juan Rodríguez told the newspaper El Nuevo Día that Soto's husband, a police officer who works in the same building, shot Candelario when he arrived at his wife's office soon after she had been shot.
Valencia said authorities expected to file charges against Candelario once his health improved.
Puerto Rico's police force is one of the largest in a U.S. jurisdiction, and the shooting's death toll was the highest in the force's history. The troubled department is undergoing a 10-year federally mandated reform after U.S. prosecutors accused officers of illegal killings, corruption and civil rights violations.
Valencia said Candelario had been stripped of his weapon in 2005 and put on administrative duty after his supervisor requested a medical and psychological evaluation.
That year marked the first of three internal investigations against Candelario for insubordination and unexcused absences, the spokesman said.
No cause for action was found during the first investigation, but the second investigation led authorities to issue a written statement ordering Candelario to cease and desist with his behavior, Valencia said. The third investigation began in 2013 and had not been completed, he said.
Valencia said he did not have details of the three investigations.
He said Candelario's weapon was returned to him in January 2015 on the recommendation of a psychologist even though the third investigation was still underway.
Valencia said he believed investigators took sufficient and appropriate action against Candelario at all times, noting that the officer remained on administrative duty even after he was returned his weapon.
"There is no internal investigation into this," Valencia said. "The personnel are trained to carry out their investigations, and they are experts."
He said Candelario was approved to take the majority of December off for medical reasons after presenting a doctor's note. Valencia said privacy laws prohibited him from sharing further details, including how many times Candelario saw a psychologist and whether he was given any medication.
Calls to Candelario's relatives went unanswered.
Peñuelas Mayor Walter Torres previously told the newspaper El Nuevo Día that he knew Candelario well and that the officer was a quiet, religious man known for visiting sick people.
Like us on Facebook
Follow us on Twitter & Instagram