The Latest: UN warns against assault on Syria's Idlib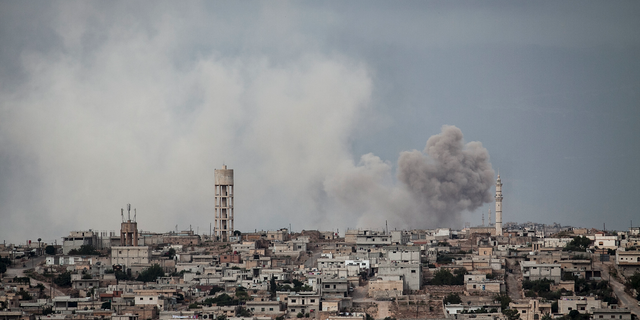 BEIRUT – The Latest on the conflict in Syria (all times local):
5 p.m.
The head of the U.N. agency for refugees says a potential military offensive in the last rebel stronghold in Syria threatens to cause renewed displacement and discourage refugees from returning home.
U.N. High Commissioner for Refugees Filippo Grandi said Friday that an offensive on Idlib is "going to be very difficult." He said he has appealed to the government in Syria to find a way forward for the area, packed with civilians and armed groups, that "spares civilian lives."
Grandi said an offensive threatens to cause many civilian deaths, fresh displacement and would also discourage refugees from returning. "You risk also sending a message to refugees that the situation is not secured. Refugees will be watching very closely what is happening in Idlib in the next few months."
Grandi is in Lebanon after a visit to Syria and neighboring Jordan.
___
4:30 p.m.
Russia's foreign minister says negotiations are underway to establish a humanitarian corridor for civilians to be able to leave Idlib, the northern rebel-held province of Syria where concerns of an imminent large conflict are mounting.
Syria on Thursday proposed establishing the corridor, which would channel civilians to government-held areas. That would send many back into parts of Syria they once fled in its 7-1/2-year-old civil war.
Foreign Minister Sergey Lavrov told reporters Friday that it is necessary to minimize risks for civilians in Idlib. Russia has repeatedly claimed that rebels are preparing a chemical weapons attack in Idlib that the West could blame on President Bashar Assad's forces and use as a pretext for retaliatory strikes.
___
2:20 p.m.
Syrian opposition fighters blew up bridges Friday linking areas they control to government-held territories in northwestern Syria in anticipation of a military offensive against their last stronghold in the country, activists and a war monitor said.
The explosions rocked the area in al-Ghab plains, south of idlib and came after rebels detected government troop movement in the area, according to Rami Abdurrahman, head of the war monitoring Syrian Observatory for Human Rights.
Abdurrahman said two other bridges remain in the area and could be used by government forces to move in on the rebel stronghold.
Most of Idlib province and adjacent strips of Hama province remain in the hands of an assortment of armed groups, some Turkey-backed and others independent Islamist groups. But the strongest alliance of fighters is led by an al-Qaida-linked group that controls most of the area that is also home to some 3 million people.
Thousands of government troops and allied fighters have been amassing in areas surrounding Idlib while Russia, Syria's powerful ally, has said a military operation was necessary to weed out "terrorists" it blames for attacking its bases on the coast.