The Latest: Russia says Syrian rebels violating truce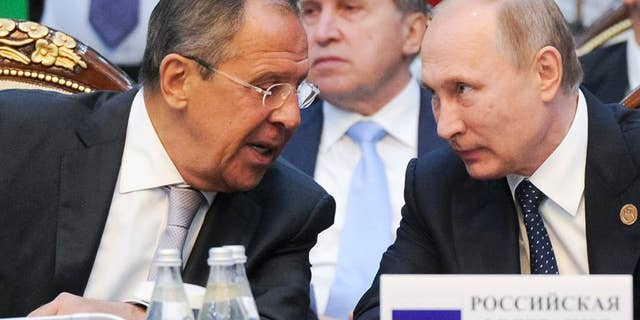 NEWYou can now listen to Fox News articles!
BEIRUT – The Latest on the conflict in Syria, where a fragile cease-fire has entered its fifth day. (all times local):
4:30 p.m.
Russia's military says Syrian rebels have violated a cease-fire 55 times over the past day, including with strikes on military and civilian targets in the divided northern city of Aleppo.
The Interfax news agency quoted Col. Sergei Kopytsin as saying Saturday that mortar fire and improvised rockets struck Aleppo 26 times. Russian news agencies cited another official, Lt. Gen. Vladimir Savchenko, as saying there had been 55 violations throughout the country.
A tense cease-fire brokered by Moscow and Washington went into effect on Monday. The truce has largely held, despite dozens of alleged violations by both sides.
The cease-fire was supposed to pave the way for aid shipments into besieged rebel-held areas of Aleppo, but convoys have yet to enter.
___
1:10 p.m.
Russian President Vladimir Putin is expressing frustration at Washington's refusal to publish the Syrian cease-fire deal reached with Russia, but says Moscow won't unilaterally release it.
"I don't really understand why we have to keep such an agreement closed," Putin was quoted as saying Saturday during a trip to Kyrgyzstan.
He suggested Washington's resistance stems from a hope to retain the combat potential of forces fighting the Syrian government.
"This comes from the problems the U.S. is facing on the Syrian track — they still cannot separate the so-called healthy part of the opposition from the half-criminal and terrorist elements," he said. "In my opinion, this comes from the desire to keep the combat potential in fighting the legitimate government of Bashar Assad. But this is a very dangerous route."