The Latest: Palestinian set sail from Gaza defying blockade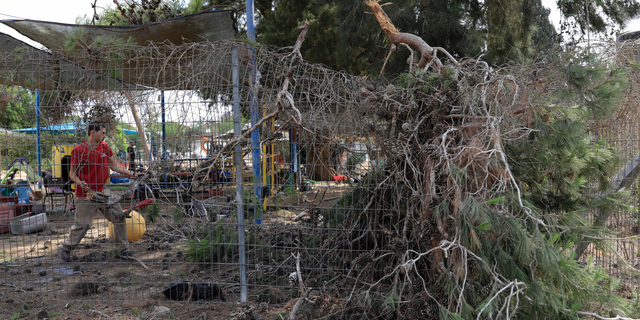 NEWYou can now listen to Fox News articles!
JERUSALEM – The Latest on the violence along the Israel-Gaza border (all times local):
1:10 p.m.
Palestinian activists have set sail in defiance of years of an Israeli and Egyptian naval blockade on the Gaza Strip.
Two fishing boats carrying 20 people in need of travel left the territory's small harbor on Tuesday.
Gaza's militant Hamas rulers say the move is symbolic. It's unlikely that Israel will let the boats exceed the six-nautical-mile limit it imposes on Gaza.
Occupants include medical patients and students unable to leave through overland crossings.
Israel and Egypt sealed off their border when Hamas violently took over from the Palestinian Authority in 2007.
The expedition also marks eight years since Israeli commandos raided a Gaza-bound aid flotilla, killing nine pro-Palestinian Turks and sparking an international outcry against the blockade.
___
8:50 a.m.
The Israeli military says more than 25 mortar shells have been fired from the Gaza Strip toward communities in southern Israel. No one was hurt in the barrage.
The military says most were intercepted by the Iron Dome defense system on Tuesday.
But the volume of mortars would appear to be the largest fired in a single incident since the 2014 Israel-Hamas war. Israeli media reported that one of shells landed near a kindergarten shortly before it opened.
The border area has been tense in recent weeks as the Palestinians have held mass protests aimed at lifting a blockade imposed by Israel and Egypt after Hamas seized power in 2007.
Israeli fire has killed more than 110 Palestinians, most of them during the Hamas-led protests, which climaxed on May 14.