The Latest: Official says the circle is closing on gunman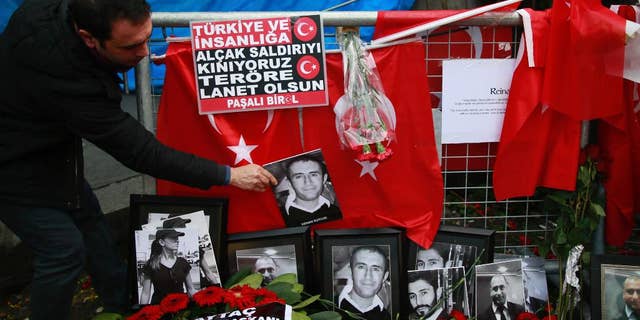 ISTANBUL – The Latest on Istanbul nightclub attack (all times local):
3:05 p.m.
Turkish Deputy Prime Minister Veysi Kaynak says authorities are close to catching the gunman who killed 39 people at an Istanbul nightclub.
Kaynak told A Haber news channel in an interview Thursday that "the circle is closing in" on the gunman who vanished after the attack.
The deputy premier said authorities believe he is still inside Turkey, although they have not completely ruled out the possibility that he may have escaped.
Kaynak said the man is believed to be from China's Muslim Uighur minority.
___
1:20 p.m.
A well-known Turkish fashion designer and critic of the ruling conservative party has been arrested on charges of inciting hatred on social media.
The Daily News newspaper said Thursday that Barbaros Sansal posted a video tweet on New Year's Eve criticizing celebrations "while there is so much filth, vileness and poverty in the country."
Hours later, a gunman attacked revelers at an Istanbul night club, killing 39 people. The attack was claimed by the Islamic State and was unrelated to the tweet.
When Sansal was expelled from Turkish-controlled Northern Cyprus on Jan. 2 where he was on holiday, he was attacked by unknown assailants and some passengers as he was leaving the aircraft at Istanbul's main airport. His lawyer said Sansal sustained back injuries.
After questioning, Sansal was arrested on charges of "inciting hatred among the public."
Criticism considered to be insult to the state or deemed to be terrorist propaganda is punishable under Turkish laws.
___
10:30 a.m.
Turkey's state-run news agency says police have conducted more raids in their hunt for the gunman that killed 39 people at an Istanbul nightclub, detaining several people.
Anadolu Agency said Thursday that anti-terrorism teams, acting on tips, conducted raids in Istanbul's outskirts, detaining a number of people from China's Muslim Uighur community. The report didn't provide any numbers, but said they were suspected of "aiding and abetting" the gunman.
At least 39 other people are already in custody over suspected links to the attack on Istanbul's upscale Reina nightclub during New Year's celebrations.
The Islamic State group has claimed responsibility for the massacre, saying it was in reprisal for Turkish military operations in northern Syria.
The government says the gunman, who reportedly escaped in a taxi, has been identified.