The Latest: Migrants protest overcrowding at Greek camp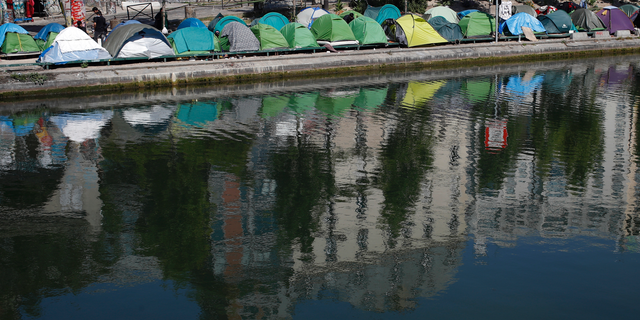 NEWYou can now listen to Fox News articles!
BERLIN – The Latest on migrants in Europe (all times local):
3:40 p.m.
About 100 asylum-seekers are protesting outside a camp in northern Greece to draw attention to overcrowding and poor housing conditions there.
The mostly Kurdish protesters, including many children, held up placards at the entrance to the Diavata camp in the peaceful protest.
The camp contains prefabricated homes for about 750 people, but its population has grown to 1,850 amid increased immigration flows, mostly across Greece's northeastern land border with Turkey.
Greek officials have started reopening camps created to deal with the immigration crisis of 2015, in which more than a million people reached the country on their way to Europe's affluent heartland.
Most of these camps were later closed as their occupants were found rented accommodation in Greek cities or relocated to other European countries.
___
1:30 p.m.
Germany's top migration official says he will immediately ban a local branch office of Germany's Federal Office for Migration from making any further asylum decisions.
The unprecedented decision comes amid a scandal over the improper granting of asylum requests which also has put the head of Germany's Federal Office for Migration, Jutta Cordt, under pressure.
Interior Minister Horst Seehofer's ban came Wednesday after an internal revision of 4,568 asylum cases found officials at the Bremen branch had intentionally violated regulations.
Seehofer said the "trust in the quality of the asylum procedures and the integrity of the welcome center in Bremen has been massively damaged."
In April, prosecutors said at least 1,200 asylum requests, mostly by members of Syria's Yazidi minority, may have been wrongly approved between 2013 and 2016.
___
9:05 a.m.
France's interior minister has ordered the evacuation of some 2,300 migrants camped in Paris amid a standoff with City Hall over how to handle the long-running problem.
Interior Minister Gerard Collomb said in a statement Wednesday that he ordered police to work out an evacuation operation soon that would "reconcile" the demands of a tough new immigration law and appeals by aid groups to give the migrants shelter.
Tent camps have mushroomed in recent weeks along canals in eastern and northeastern Paris, raising concerns for safety and public hygiene. Two migrants drowned this month.
Mayor Anne Hidalgo has appealed to the government for help. The city has already cleared out some 28,000 migrants from Paris camps since 2015.
Collomb criticized Paris City Hall for refusing to evacuate them and urged a long-term plan for migrants streaming regularly into the French capital.