The Latest: Macedonia wants Greek police active at border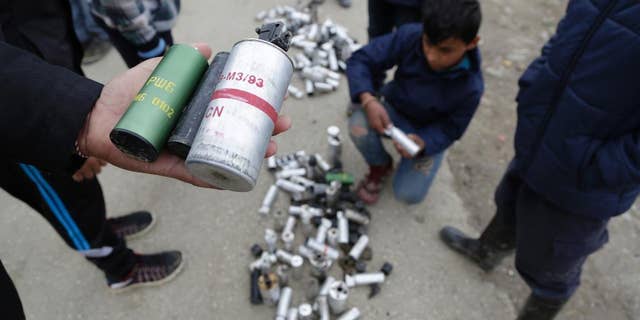 ATHENS, Greece – The Latest on issues involving migrants in Europe (all times local):
2:10 p.m.
Macedonia has asked Greece to fully engage its police forces to prevent what it called the violent rioting of migrants and attempts to illegally cross the border.
Monday's call came a day after seven-hour clashes between Macedonian security forces and hundreds of migrants and refugees who attempted to breach the border fence at an impromptu refugee camp housing more than 11,000 people near the Greek village of Idomeni.
Macedonian authorities fired tear gas and rubber bullets, and medical aid agencies said they treated about 300 people. Macedonia said 14 police offers and nine soldiers were wounded. Greek police did not intervene.
The Macedonian foreign ministry said Skopje has been continuously requesting "cooperation, information sharing and preventive action" from Greece to discourage such incidents.
___
12:05 p.m.
Only 18 refugees and migrants have entered Greece by sea over the past 24 hours, a week after a European Union deal to deport new arrivals back to Turkey went into effect.
However, just over 53,000 remained stranded Monday in Greece, through which more than a million people from the Middle East and Africa have passed since the beginning of 2015, heading to more prosperous European countries.
Arrivals, mostly in frail smugglers' boats from Turkey, peaked above 200,000 in October. Following last month's EU-Turkey deal the numbers have dropped, with just 1,704 arrivals so far this month — about 189 daily.
About 11,000 migrants live in a tent city on the closed Macedonian border, hoping to continue north, despite repeated appeals from Greek authorities to relocate to organized shelters.