Syrian rockets hit Lebanon again as tensions spike over Syria's civil war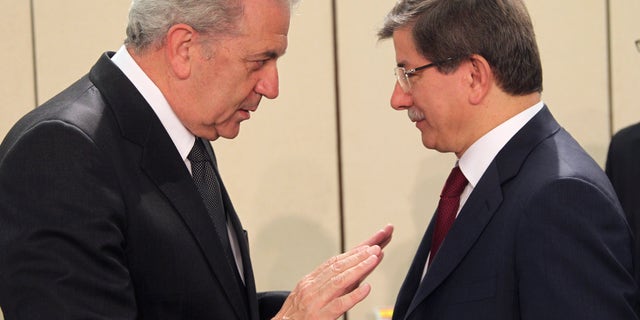 NEWYou can now listen to Fox News articles!
BEIRUT – Two Syrian rockets struck Lebanon on Tuesday, causing damage and heightening tensions between Lebanese Shiite and Sunni communities over neighboring Syria's civil war, security officials in Beirut said.
Rockets apparently fired by Syrian rebels have hit mostly Shiite areas in Lebanon several times in the past two weeks. One salvo killed at least two people.
Tuesday's rocket attack came hours after two leading Lebanese Sunni Muslim clerics called for holy war, or jihad, in Syria. They appealed to fighters to protect Sunnis in villages under attack by Syrian troops and pro-government Shiite gunmen.
Lebanon and Syria share a complex web of political and sectarian ties and rivalries that are easily enflamed. Lebanon, a country plagued by decades of strife, has been on edge since the uprising against President Bashar Assad erupted in March 2011.
Pro and anti-Assad groups in Lebanon have engaged in deadly clashes. Many Lebanese Shiites back Assad, whose regime is dominated by members his minority Alawite sect, an offshoot of Shiite Islam. Lebanese Sunnis back the rebels, who are mostly from that country's Sunni majority.
In Israel, a senior military intelligence official said that Assad used chemical weapons last month against rebels. It was the first time that Israel has accused the embattled Syrian leader of using his stockpile of nonconventional weapons.
Brig. Gen. Itai Brun of Israeli military intelligence told a security conference in Tel Aviv, "To the best of our professional understanding, the regime used lethal chemical weapons against the militants in a series of incidents over the past months."
"Shrunken pupils, foaming at the mouth and other signs indicate, in our view, that lethal chemical weapons were used," he said.
The officials in Beirut said one of the rockets Tuesday hit a house under construction on the edge of the northeastern town of Hermel near the Lebanon-Syria border. The other fell in a field, they said, speaking on condition of anonymity because they were not authorized to talk to reporters.
There was heavy fighting on the Syrian side of the border around the strategic town of Qusair, where troops and pro-government Shiite gunmen backed by Lebanon's militant Hezbollah group have been advancing for days.
Syrian rebels accuse Hezbollah of fighting alongside Assad's troops and attacking rebels from inside Lebanese territory. Though Hezbollah confirms backing the regime's fighters, it denies taking part in the wider civil war.
The Qusair region around the Orontes River is strategic because it links the capital Damascus with the Mediterranean coastal enclave that is the heartland of Assad's Alawite sect.
In Lebanon, hard-line Sunni cleric Sheik Ahmad al-Assir, one of the militant group Hezbollah's harshest critics, issued a religious edict urging Sunni Lebanese men "to defend Qusair." Al-Assir is based in the southern port city of Sidon
Another Sunni cleric, Sheikh Salem al-Rafie, who is based in the northern Lebanese city of Tripoli, issued another edict calling for a "general mobilization among Sunnis to protect Sunni brothers." He said the people of Qusair appealed for "money and men."
Al-Assir and al-Rafie said Hezbollah has violated the Lebanese government's neutral stance toward Syria's civil war by taking part in the fighting.
Over the past several weeks, Hezbollah held several funerals in Lebanon for its members — gunmen who it said were killed while "performing their jihadi duties." The group did not say where or how the men were killed, but it is widely known they died fighting in Syria.
Lebanese Sunnis have also been killed in Syria while fighting alongside the rebels trying to remove Assad from power.
Top Hezbollah official Nabil Kaouk said Monday that his group is "performing a national duty" toward Lebanese Shiites living in Syrian border towns and villages.
In Syria, the fate of two priests who were kidnapped Monday in the northern province of Aleppo is still unknown.
It was not immediately clear who abducted Bishop Boulos Yazigi of the Greek Orthodox Church and John Ibrahim of the Assyrian Orthodox Church, said Greek Orthodox Bishop Tony Yazigi. He said the two bishops were abducted from the village of Kfar Dael, and their driver was killed by the gunmen.
Greek government spokesman Simos Kedikoglou said Prime Minister Antonis Samaras was informed of the kidnapping late Monday night and contacted Foreign Minister Dimitris Avramopoulos, who is in Brussels for a NATO foreign ministers meeting.
Avramopoulos has spoken by phone with Antioch Patriarch John Yazigi, the brother of one of the kidnapped priests, and with the new head of the Syrian opposition, George Sabra, "who assured (the foreign minister) that he will act immediately" to locate and free the kidnapped priests.
The main Syrian opposition group, the Syrian National Coalition, condemned the kidnapping of the priests and blamed Assad's regime. It said that the coalition will do all it can to win the freedom for the priests.
Elsewhere in Syria, The Britain-based Syrian Observatory for Human Rights reported air raids and shelling near Damascus. Also, an army colonel was shot dead in the contested Damascus neighborhood of Barzeh.
It said nine pro-government Shiite gunmen were killed near the military air base of Mannagh in Aleppo in an ambush by Kurdish gunmen. Seven others have been missing since the clash early Monday.
Syria's conflict started with largely peaceful protests against Assad's regime in March 2011 but turned into a civil war. More than 70,000 people have been killed, according to the United Nations.