Shanghai Subway Trains Crash, Injuring Hundreds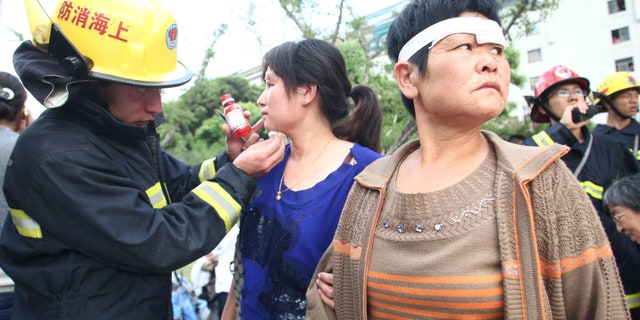 A Shanghai subway train crashed into another that was stopped underground Tuesday afternoon, injuring more than 210 people in the latest trouble for the rapidly expanded transportation system in China's commercial center.
The crash occurred after Shanghai Shentong Metro Group blogged that line 10 was having delays due to equipment problems. Line 10 opened just last year as one of the city's newest subways.
At least 212 people were hurt, three seriously, the metro operator said. It said none had life-threatening injuries, though some of the injured were carried away on stretchers.
"This is the darkest day ever for the Shanghai subway. Regardless of the cause or responsibility, we are stricken with remorse for having caused our passengers injury and losses," the company said in an apology posted on its blog. "We want to deeply, deeply apologize."
The crash follows a July 23 collision of two bullet trains in southeastern China that killed 40 people and injured 177, bringing into the open festering resentments over the huge costs of the country's massive buildup of its rail system, especially its high-speed trains.
Authorities have not yet disclosed the results of an investigation into the cause of that accident, though state media cited officials saying signaling equipment was thought to have been a key factor.
In Tuesday's crash, one train rammed into the back of another that was stopped between stations. Reports said problems with signaling equipment had prompted the line to switch to manual operations.
The trains were relatively crowded when they crashed in midafternoon. Photos posted online by passengers showed some of the injured covered in blood and lying on the floor of the train.
Firemen helped evacuate the approximately 500 passengers on the trains, taking them out through emergency exits and walking them through the subway tunnel.
The crash snarled downtown traffic as police blocked roads to clear the way for ambulances, and hundreds of gawkers gathered to watch as passengers were escorted from the subway.
Shanghai, a city of 23 million, has rapidly expanded its subways in recent years and some lines have seen problems with faulty signaling, windows shattering, doors not opening properly and poorly trained train operators.
Shanghai's No. 10 line was among several opened last year that were built hastily ahead of the 2010 World Expo, which brought more than 72 million visitors to the eastern city.