Seven killed, oil pipeline bombed in Iraq violence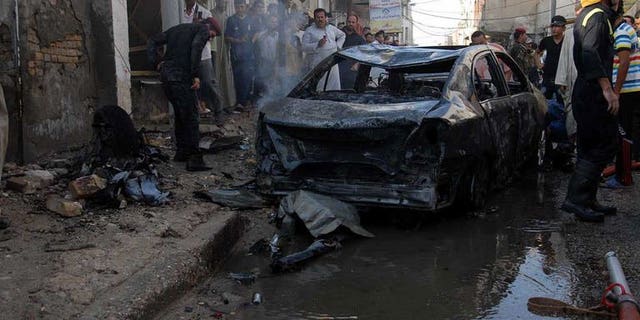 BAGHDAD (AFP) – Attacks in Iraq killed seven people, damaged an oil pipeline and hit a Shiite shrine on Wednesday, as the country grapples with a months-long spike in violence.
Prime Minister Nuri al-Maliki has vowed to press operations to try to stem the bloodshed, which has claimed more than 3,500 lives already this year, but analysts say Iraq is not tackling the root causes of the unrest.
In the deadliest attack, gunmen broke into the house of a local anti-Al-Qaeda militia chief west of Baghdad, killing his son and cousin.
Sunni militants consider the Sahwa, a collection of Sunni tribal militias that joined forces with the United States and turned against Al-Qaeda from late 2006, to be traitors and frequently attack them.
Nine bombings in five different Iraqi cities -- in Baghdad and north of the capital -- also killed five people on Wednesday, including an army captain and two Kurdish peshmerga fighters, and damaged a local Shiite shrine, officials said.
Meanwhile, Iraq's crude exports via Turkey were halted by three separate but apparently coordinated attacks targeting an oil pipeline in the northern provinces of Nineveh and Kirkuk.
Iraq relies on oil exports for the lion's share of its government income, and is seeking to dramatically ramp up its sales in the coming years to fund the reconstruction of its battered infrastructure.
Violence has surged this year to levels not seen since Iraq was emerging from a brutal Sunni-Shiite sectarian conflict in 2008.
Analysts and diplomats link the increased bloodshed to anger among Iraq's Sunni Arab minority over their alleged ill-treatment at the hands of the Shiite-led authorities.