Red Cross visits crew of seized N. Korea ship in Panama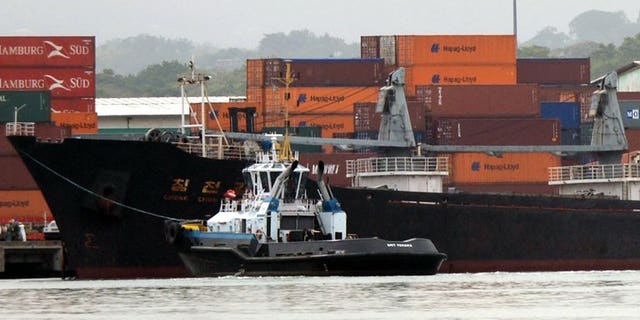 COLON, Panama (AFP) – A delegation from the Panamanian Red Cross Tuesday visited the 35 crew members from a North Korea ship being held for carrying undeclared Cuban weapons.
The crew of the North Korea-flagged Chong Chon Gang could face arms trafficking charges after missile and other weapons parts, as well as two Soviet-era supersonic planes, were found earlier this month.
The arms were concealed in a shipment of sugar, in what could constitute a violation of tough UN sanctions on Pyongyang.
A convoy of several Red Cross vehicles, along with four ambulances, entered Fort Sherman, a former US base on the Atlantic side of the Panama Canal, where the crew have been held for 10 days.
"Three doctors and our staff came," Panama Red Cross president Jaime Fernandez told reporters. "We came to see if they need any medical services from us. It's a humanitarian mission."
Fernandez added a visit from the International Committee of the Red Cross was scheduled for later.
The vehicles and ambulances were thoroughly searched by police officers from the National Air Service.
An AFP reporter said items being brought in the vehicles included toilet paper, tooth paste, bottled water and energy drinks.
Cuba has claimed the shipment on the Chong Chon Gang consists of "obsolete" weapons it was sending to North Korea to be refurbished and returned.