Red Cross prepares to evacuate Homs as Syrian activists report clashes in northwest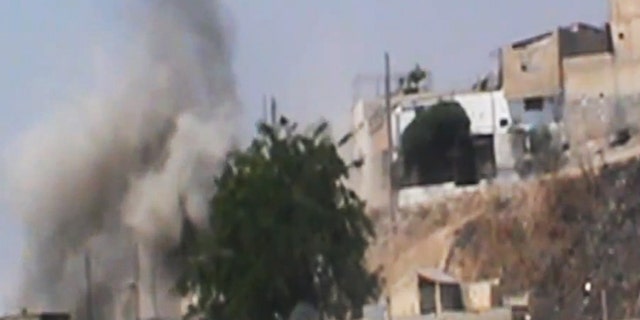 BEIRUT – Hundreds of civilians are trapped by fighting in the Syrian city of Homs, the International Committee of the Red Cross said Wednesday as it prepared to mount an emergency operation to aid and evacuate the wounded, sick and elderly.
Syria's government and rebel groups agreed Tuesday to pause the fighting -- which has lasted for more than 10 days -- to allow rescuers to enter the affected neighborhoods, the group said.
"Hundreds of civilians are stuck in the old city of Homs, unable to leave and find refuge in safer areas, because of the ongoing armed confrontations," said Beatrice Megevand-Roggo, the group's head of operations for the region.
A spokesman for the Red Cross in Geneva said aid workers were making final preparations that include ensuring it is in contact with all sides.
"We hope to get in as soon as possible," Hicham Hassan told The Associated Press.
In a northwestern province, Syrian rebels clashed with soldiers for hours overnight and inflicted heavy casualties on government forces, activists said Wednesday. The fighting came after the head the of the country's U.N. observers said his forces had come under attack and cast doubt on the future of the mission.
The Britain-based Syrian Observatory for Human Rights says 20 soldiers were killed in clashes with rebels in Latakia starting late Tuesday, but it was impossible to confirm that toll independently. The Observatory cited witnesses on the ground for the figure.
Other activists confirmed several hours of fighting in the mountains of Latakia.
The violence in Syria has grown increasingly chaotic over the course of the uprising, which began in March 2011 with mostly peaceful protests. The government restricts journalists from moving freely, making it difficult to verify accounts from either side.
On Tuesday, Maj. Gen. Robert Mood, the head of the U.N. observer mission, said U.N. forces have come under fire multiple times recently but are committed to staying in the country.
But Mood also said after a private briefing of the Security Council that questions about canceling the mission were premature and noted, "We are not going anywhere."
The U.N. said Saturday its 300 observers based in Syria were suspending all missions because of concerns for their safety after fighting intensified over the previous 10 days.
"Shelling, small arms fire and other incidents are coming much closer, and we have been targets several times over the last few weeks," Mood said. It was not only dangerous to his observers, but made it difficult to carry out their mission.
A U.N. diplomat who was at the briefing, and who spoke on condition of anonymity because the briefing was closed, said Mood told the council the observers have taken direct fire at least 10 times, have been in several "indirect fire" incidents — a term usually referring to mortars or artillery — and that nine UN vehicles were damaged or struck by small arms fire.
Opposition groups say more than 14,000 people have been killed since the uprising began. A ferocious government crackdown has led many people to take up arms, and the conflict is now an armed insurgency.
Syria is Russia's last remaining ally in the Middle East, and has been a major customer of Soviet and Russian weapons industries for the last four decades, acquiring billions of dollars' worth of combat jets, helicopters, missiles, armored vehicles and other military gear. Russia has also shielded Assad's regime from international sanctions over its violent crackdown.
On Tuesday, U.K. officials said a Russian-operated ship said to be carrying military helicopters to Syria appeared to have turned back after its British insurer removed coverage for the vessel.
Britain's Foreign Office said the ship, the MV Alaed, changed course in Europe after news reports emerged about its alleged contents. Earlier, the Foreign Office confirmed it was aware that a ship carrying a consignment of refurbished Russian-made attack helicopters was heading to Syria.
Russian officials have not commented on the ship or its reported contents. The vessel's Russian operator, Femco, refused to comment Tuesday.