Gunfire Heard in Syrian Town as Hundreds Flee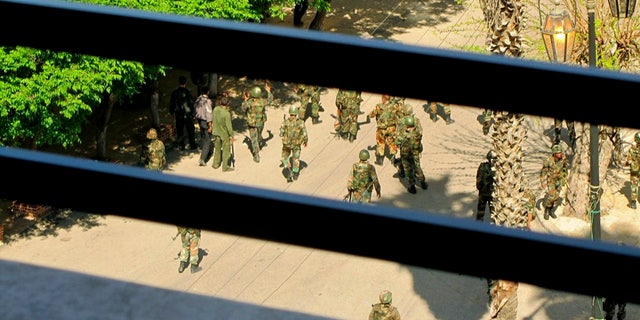 BEIRUT -- Crackling gunfire and explosions echoed through a Syrian border town Sunday, as hundreds of frightened civilians poured into neighboring Lebanon to escape a harsh crackdown against anti-government protests, witnesses and authorities said.
Among those fleeing were two boys, ages 5 and 6, who were wounded during protests, Lebanese security officials said.
They were among more than 5,000 Syrians who have fled to Lebanon in recent weeks as Syrian President Bashar Assad's security forces try to crush the protests with gunfire, sieges and even shelling. Human rights groups say more than 800 people have been killed since mid-March.
"I want to die in Syria," one man told Associated Press Television News on Sunday after he dropped his family off in Lebanon and then headed back.
Several ambulances were parked on the Lebanese side of the border to take wounded Syrians to hospitals.
Gunfire and explosions were heard through the day from Talkalakh, just inside Syria, witnesses said by telephone from the area. A military official said gunfire that came from the Syrian side of the border wounded a Lebanese soldier.
The Lebanese officials asked that their names not be used as they were not authorized to speak publicly.
Foreign reporters have been banned from Syria, making it impossible to confirm witness accounts independently. Witnesses spoke on condition of anonymity out of fear for their safety.
Many Syrians from Talkalakh have relatives across the border in Wadi Khaled in Lebanon, and marriages between Lebanese and Syrians are common. The two countries are separated by a bridge over a small river.
Over the past weeks, some have made crude crossings over the river by placing rocks and tires so that people can walk from one bank to the other.
Ammar Qurabi, head of the National Organization for Human Rights in Syria, said there were few reports from Talkalakh on Sunday because Syrian troops have isolated the city and cut telephone lines.
He said there were arrests in some parts of Syria, but several leading politicians and activists were released.
Among those freed Sunday was Riad Seif, a leading opposition figure and former lawmaker who has been an outspoken critic of the Assad regime during the uprising, along with lawyer and human rights activist Catherine al-Talli, Qurabi said.