Former NFL Standout Aaron Hernandez Yet Again In Court For Murder Case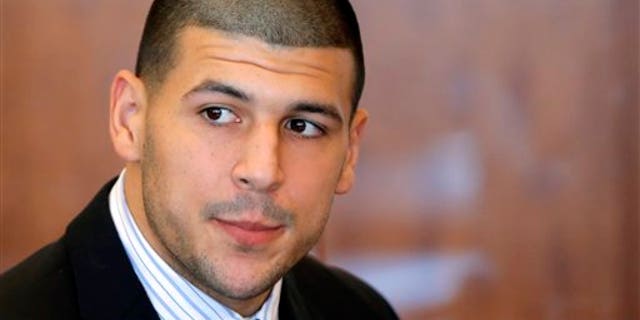 FALL RIVER, Mass. (AP) – Former New England Patriot Aaron Hernandez is due to appear in court again Monday in the murder case against him.
A hearing in the case is scheduled for Monday afternoon in Fall River Superior Court. The defense has accused District Attorney Samuel Sutter's office of violating a gag order in the case and jeopardizing Hernandez's right to a fair trial. The prosecution denies the allegations.
A judge is expected to hear arguments related to that matter.
Hernandez has pleaded not guilty to murder in the June shooting death of Odin Lloyd, a 27-year-old semi-professional football player who was dating the sister of Hernandez's girlfriend.
Lloyd's family last week filed a wrongful death suit against the ex-Patriot, seeking unspecified damages.
It's one of several legal cases the former New England Patriots tight ends faces. Earlier this month, he was also sued by the family of a man he's accused of killing .
The wrongful-death lawsuit was filed in Superior Court in New Bedford, Mass., according to the Herald-News, based in nearby Fall River.
The lawsuit alleges Hernandez "maliciously, willfully, wantonly, recklessly or by gross negligence caused Odin Lloyd to suffer personal injuries that directly resulted in his death."
The Lloyd family's attorney, Kevin J. Phelan, declined to comment on Tuesday. A message was left with a law firm that has represented Hernandez.
The court filing says unspecified damages probably exceed the value of Hernandez's $1.25 million home, and it seeks a real estate attachment up to $5 million. The Lloyd family also seeks a court order to keep the Patriots from paying Hernandez more than $3 million it believes he's owed from his contract.
The filing notes another claim is being made against Hernandez in a Florida lawsuit by a friend, Alexander Bradley, who alleges Hernandez shot him in the face after they argued outside a Miami club in February.
Meanwhile, police are investigating the death of a Connecticut woman with ties to Hernandez.
Tabitha Perry, who lived in Hernandez's hometown, Bristol, was found unconscious and not breathing inside a Southington home. She died Monday.
In June, Perry survived a car accident that killed Hernandez's friend Thaddeus Singleton III. Police say she and Singleton, who was married to Hernandez's cousin, had a child together.
The state medical examiner's office said Tuesday that Perry's death required further study, and police said they were waiting for the results of toxicology tests. They said there were no suspicious circumstances found at the time of the investigation.
Perry is one of several people with ties to Hernandez who have died in the past six months.
An uncle, Robert Valentine, died in a moped crash in August. Singleton died June 30, when the car he and Perry were in went off a road, went airborne and became lodged inside a country club building. Police have ruled the crashes accidents.
Investigators have said Singleton introduced Hernandez to two men who also face charges in Lloyd's death.
Follow us on twitter.com/foxnewslatino
Like us at facebook.com/foxnewslatino