Everyone is ready, but Britain's royal baby bides its time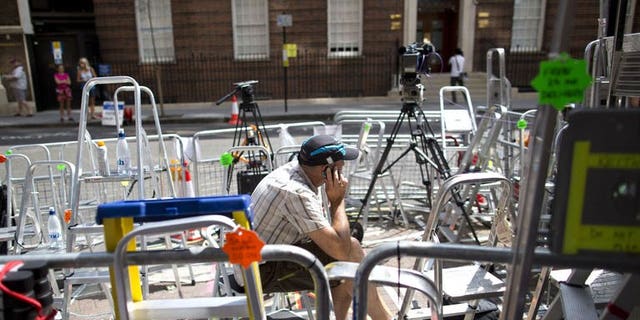 LONDON, Greater London (AFP) – The hospital is ready, the Wikipedia page and Twitter accounts are up and Britain's famously creative press are running out of ideas. But Sunday arrived with no sign of the royal baby.
Prince William is filling the time until his wife Catherine goes into labour, playing polo, taking part in charity matches on Saturday and Sunday with his younger brother Harry.
He has taken a couple of days off from his work as a search and rescue helicopter pilot in Wales, a Buckingham Palace spokesman said, although he refused to say when the prince might be going back.
The palace has stayed tight-lipped about the birth of the new third in line to the throne, saying nothing for days other than to reiterate that Catherine is due some time in mid-July.
The press had pencilled in Saturday as the day, but bookmakers William Hill tipped Sunday as the likely due date, with Paddy Power offering equal odds on Sunday and Monday.
The only thing that is certain is that babies rarely come on time and that when this new heir to the Windsor dynasty arrives, the world will be ready.
In keeping with the digital age, the newborn already has its own page on Wikipedia, entitled "Child of the Duke and Duchess of Cambridge", to use William and Kate's formal titles.
Several spoof Twitter accounts have also been set up, with one, @RoyalFoetus, already claiming 5,500 followers. On June 19, it declared: "One is done with gestating."
International media are camped outside St Mary's Hospital in London where Catherine is due to give birth, and a row of parking spaces have been reserved by the royals outside the private Lindo Wing until the end of the month.
The Sunday Times newspaper reported that the 31-year-old's gynaecologist, Marcus Setchell, will be given a police escort to hospital when she goes into labour.
It has previously been reported that Setchell had given up alcohol for several weeks in preparation for the birth.
In the absence of any proper news about the baby, such tidbits formed the bulk of the royal coverage in Britain's normally hard-hitting Sunday newspapers.
The Sunday Express reported exclusively that Catherine had spent the weekend at her parents' home in Berkshire, about 40 miles (65 kilometres) west of London.
Meanwhile the Mail on Sunday published a poll revealing that 53 percent of Britons think William and Catherine should not hire a nanny.
A further 56 percent think she should cut back significantly on her royal duties after the birth.
The paper said that palace officials expected Catherine to resume some public engagements in the autumn -- provided of course, that the baby ever arrives.