Contador my biggest threat, says Froome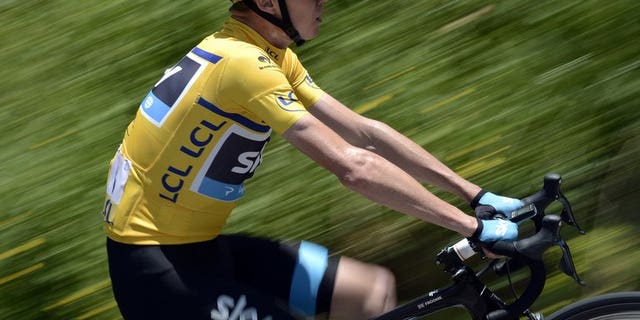 NEWYou can now listen to Fox News articles!
NICE, France (AFP) – Spain's two-time Tour de France champion Alberto Contador has been nominated by race favourite Chris Froome as his biggest threat for this year's edition, which gets underway on June 29 in Corsica.
Froome, Kenyan-born but brought up in South Africa and who has ridden with a British licence since 2008, had Contador well behind him in the Criterium du Dauphine, an influential warm-up race, earlier this month but he believes that will count for nothing once they start the Tour.
"I think there is quite a big group of competitors who could be looking to go for the yellow jersey this year, maybe 6, 7 guys who could be competitive there," the 28-year-old told AFP.
"However, Alberto Contador is still the biggest threat at the moment. He's won many grand tours in the past and he'll certainly be ready for this year's Tour de France."
Froome, who finished second in the Tour last year to Sky team-mate Bradley Wiggins after working tirelessly for his compatriot throughout the race, admitted that he was feeling nervous ahead of the start but he drew a positive message from that.
"Definitely nervous, ahead of a three-week race like the Tour de France it's probably a good thing to feel a little bit nervous, but I do feel confident that I've done all the correct preparation up until now and I'm going into the Tour de France with a really strong team behind me," said Froome, who has been virtually unbeatable this season.
Froome, who also won Olympic time-trial bronze last year while Wiggins took gold, admitted that not having Wiggins on the team would make a difference, although it is widely believed that their relationship has deteriorated especially after Froome was chosen to be team leader for this year's Tour.
Wiggins has since pulled out of the Tour with a knee injury, although that hasn't prevented him from training in Mallorca as he prepares for a late season challenge at the world championships, having said he does not want to contest the Tour of Spain.
"We no longer have the strength that Bradley could have brought to the Tour team," said Froome.
"He would have been a really big asset to have supporting me in the mountains and also in the team time-trial could have been a really strong addition in the team, but I do believe we have a strong team without Bradley."
Froome, who Sky are keen to see extend his contract with other teams reportedly preparing to try and lure him away come the August 1 deadline when official bids for riders are permitted, said that the idea was not to try and take the yellow jersey too early and then hold onto it.
"If I can get into the yellow jersey at any point, that would be, obviously the objective for me but I wouldn't say we have to try and go for it as soon as possible," he said.
"I think the first three stages in Corsica are going to be very tricky and to avoid any crashes or anything happening there is going to be the main objective."
Froome, who has also won the Tour of Romandie and the Criterium International this term, rubbished reports that he had said he wanted to win the Tour de France on several occasions, especially as he was yet to win one.
"I've never said that I want to win the Tour several times, I would love to win it once even," he said.
"I know to win it once is going to be a really hard objective to fulfil but this year we are in a good position to go for it and we will certainly give it everything."