Captured Greek far-left militant on hunger strike over son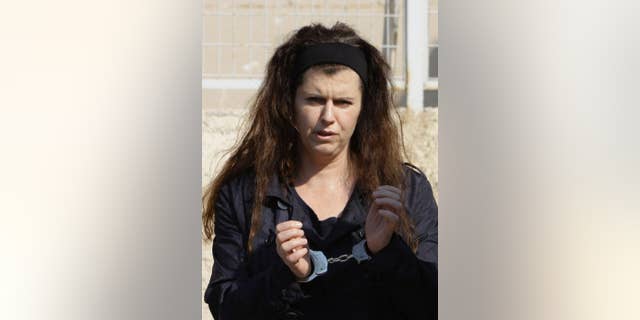 ATHENS, Greece – A convicted far-left militant captured after more than four years on the run and her imprisoned partner have started a hunger strike over Greek authorities' treatment of their 6-year-old son.
Pola Roupa, 48, also filed a criminal complaint alleging kidnapping "against all responsible" on Friday, a day after she was arrested and her son was taken into the care of social services.
Roupa was arrested in an Athens apartment Thursday along with a 25-year-old Greek woman suspected of sheltering her. They appeared in court Friday and were ordered remanded into custody.
In a statement read to reporters by her sister on Thursday, Roupa said authorities were threatening to put her son in an institution. Roupa's sister and mother have filed a request for temporary custody of the boy.
The Justice Ministry rejected as "false and irresponsible" allegations that the child was being used to put pressure on Roupa. The ministry said the boy was taken into care pending a decision on custody and being seen by specialists.
"The priority is to ensure the best interests of the child, which will be determined by the appropriate bodies, as happens in all such cases," it said.
The Athens prosecutor's office said the boy was in the custody of social services at a children's hospital, where he was being accompanied by a child psychologist. It said the custody request by the boy's grandmother and aunt was being examined, and that the two had been granted permission to have contact with him.
The Initiative for Prisoners' Rights group accused authorities of "vengeful hostage-taking" and said it stood by Roupa and her partner, Nikos Maziotis, in their hunger strike demanding the child's return to Roupa's relatives.
In the northern city of Thessaloniki, a group of youths smashed windows in an office of the governing left-wing Syriza party. They left fliers accusing Greece of "fighting its enemies by kidnapping" the child of members of the armed anarchist group Revolutionary Struggle.
Roupa and Maziotis were convicted in absentia of participating in Revolutionary Struggle, which has carried out bombings and shootings, including firing a rocket at the U.S. Embassy in Athens in 2007. Because of court delays, their pre-trial detention in 2011 exceeded the 18-month limit, and they were freed on bail.
The women vanished in 2012, along with their son. Maziotis was recaptured in 2014 after a shootout with police in central Athens. Both admit involvement with Revolutionary Struggle and describe themselves as unrepentant revolutionaries.
____
Costas Kantouris in Thessaloniki contributed