BRAZIL BEAT: Switzerland's biggest World Cup fans _ Brazilians rooting against rival Argentina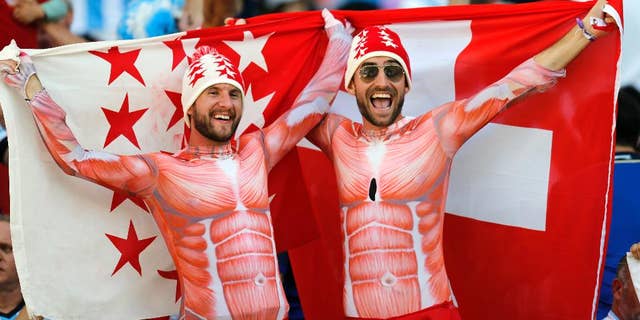 SAO PAULO – The chant resonates throughout the bleachers: "Sui-ca, Sui-ca."
It's the Portuguese word for Switzerland, and those cheering on the Swiss in Tuesday's World Cup round of 16 game are not European fans draped in red but rather dozens of locals dressed in their national team's traditional yellow. The reason for their newfound affection for the Swiss? Their opponent of the day — hated South American rival Argentina.
"It's nice. We are a little country and we need all the support we can get," said Peter Adolf, a 32-year-old fan from Bern, Switzerland. "But we know is it because they hate Argentina."
— By Aron Heller — www.twitter.com/aronhellerap
___
Associated Press reporters will be filing dispatches about happenings in and around Brazil during the 2014 World Cup. Follow AP journalists covering the World Cup on Twitter: https://twitter.com/AP_Sports/world-cup-2014