Bayern coach Pep Guardiola adds his name to pro-Catalan independence election list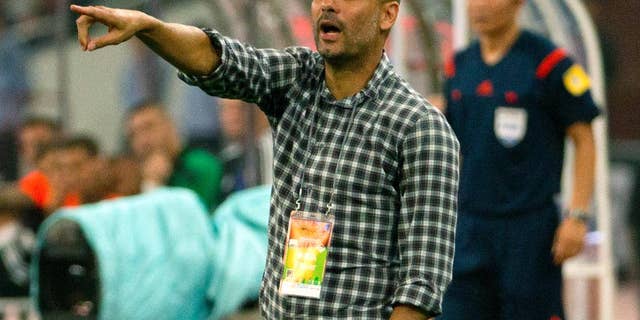 NEWYou can now listen to Fox News articles!
MADRID – Bayern Munich coach Pep Guardiola has thrown his support behind a push for Catalonia's independence from Spain by taking a symbolic place on a list of pro-secession candidates.
Guardiola, 44, told reporters on Wednesday in China, where his team is on a pre-season tour, that he had been asked to do so by the region's two man parties as they prepare for Sept. 27 regional elections.
Guardiola, a native of Catalonia, was a star player and coach of Barcelona, a team symbolic of Catalan nationalism. Ironically, he was also a key player for the Spain's international side for many years.
Catalonia's Convergence and the Republican Left parties want the elections to be a vote on independence and say they will unilaterally leave Spain if they obtain a majority.
Spain has ruled out any possibility of secession.
The region, whose capital is Barcelona, accounts for about one-fifth of Spain's gross domestic product.
Guardiola's move is symbolic as he is not expected to take a seat regardless of the election result.
News of his decision was welcomed by the pro-independence camp, but criticized by others.
Interior Minister Jorge Fernandez Diaz said it was regrettable to mix sports with politics, and accused Guardiola of having played for Spain for the money.