Australia PM puts record number of women in cabinet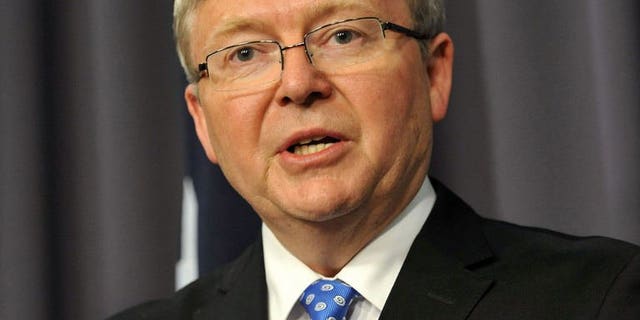 SYDNEY (AFP) – New Australian Prime Minister Kevin Rudd unveiled his cabinet on Monday, bringing in a record number of women and switching the focus to the economy.
"I am delighted that in this cabinet of ours we will have the largest number of women in any cabinet in Australian history," he announced.
Rudd dramatically seized the leadership on Wednesday, three years after he was suddenly ousted by his centre-left Labor Party.
But with Labor trailing badly in the polls, the party dumped Julia Gillard and has seen an immediate popularity bounce.
Victorian senator Jacinta Collins enters the cabinet as minister for mental health, Catherine King will be minister for regional Australia and Julie Collins takes the portfolios of housing, homeless and the status of women.
The number of women in the cabinet climbs from nine under Gillard to 11.
West Australian MP Melissa Parke was also appointed as the the country's first minister for international development, a non-cabinet job.
Rudd said the appointments were made purely on merit, not gender, and pledged to boost the economy.
"The core task of this Australian government is to keep the economy strong," he said.
Rudd pledged to work for a "stronger, fairer Australia ... and never ever, ever allow the fair-go to be thrown out the backdoor."
The top jobs of foreign affairs, defence and the home ministry did not change hands.
New Deputy Prime Minister Anthony Albanese will take over the communications portfolio and responsibility for the rollout of the high speed National Broadband Network. He keeps his transport and infrastructure portfolios.
Tony Burke was shifted from environment to immigration and multiculturalism.
The cabinet was due to be sworn in Monday afternoon and hold a first meeting later in the day."