Ahly, Zamalek playmakers back for CAF clash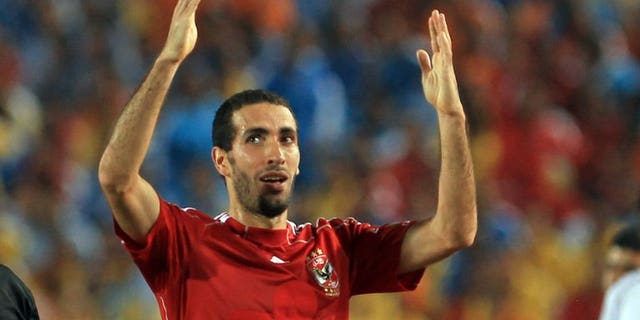 JOHANNESBURG, Gauteng (AFP) – Star midfielders Mohamed Abou Trika of Al-Ahly and Mahmoud Abdel Razak of Zamalek return Wednesday for a potentially explosive CAF Champions League Egyptian derby.
Abou Trika, considered one of the greatest footballers produced by the north African country, has completed a short loan spell with a United Arab Emirates club.
Talented but volatile Abdel Razak, better known by his nickname 'Shikabala', also spent time playing in the UAE before being released eight months ago.
They are the playmakers who drive the two most successful African clubs in CAF competitions, with Ahly winning 16 titles and Cairo neighbours Zamalek nine.
Those continental successes include a record seven Champions League triumphs for title-holders Ahly and five for Zamalek, whose last success was 11 years ago.
Both sides must do without their leading scorer in the qualifying phase -- four-goal Emad Moteab of Ahly is injured and five-goal Abdoulaye Cisse has left Zamalek.
The Group A matchday 1 showdown offers the sides a chance to top the table after Orlando Pirates of South Africa and AC Leopards of Congo Brazzaville drew 0-0 last weekend.
Ordinarily, an Ahly-Zamalek fixture would pack the 75,000-seat Cairo Stadium with millions more in Egypt, Africa and the Middle East watching a live broadcast.
But political turmoil after the recent ousting of President Mohamed Morsi and related insecurity mean the Cairo giants must play 450 kilometres away in Red Sea resort El-Gouna.
A more unlikely setting is hard to imagine with the tranquil town renowned for watersports and boasting a golf club designed by American former world number one Fred Couples.
The football stadium holds just 12,000 and inadequate floodlights mean the game must be played in mid-afternoon heat during the Muslim holy month of Ramadan.
Although the Ahly and Zamalek footballers have permission to eat and drink between dawn and dusk, most observe the fast as part of their religious beliefs.
"I will be fasting," stressed Ahly defender Ahmed Fathy in an Egyptian media interview. "This situation occurs each year and I know how to adapt.
"It is a no-brainer -- I do not think it will effect me technically or physically as I am used to it," said the star who helped Hull City win promotion this year to the English Premier League.
While teams saturated with national team players plot victory in the latest round of a 102-year rivalry, Egyptian authorities are concerned about security.
The match will be staged behind closed doors -- as are so many in north Africa since the Arab spring -- but hard-core Ahly and Zamalek fans have threatened to attend.
Both groups of supporters defied a ban on attending matches in the national league this season, leading to heavy fines for the Cairo clubs.
"The presence of any supporters in the stands means a violation that would require a sanction against the home side (Zamalek)," warned a CAF official.
This will be the firth meeting of the clubs at the mini-league stage with Ahly winning and drawing last year, the same results produced five seasons ago.