A chronology of the escalating violence between Israel and the Palestinians in recent months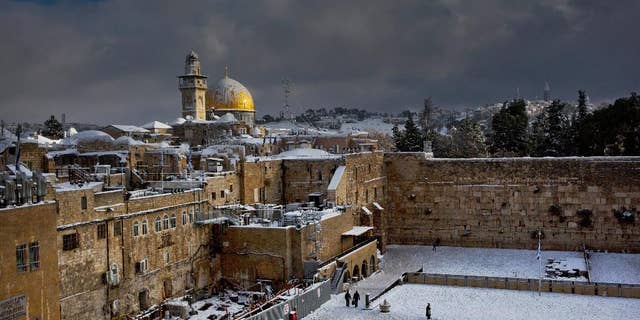 NEWYou can now listen to Fox News articles!
JERUSALEM – It has been a difficult year for Israelis and Palestinians, with the failure of peace talks and a string of violent incidents that shows no signs of ending. Here is a look at some key recent events:
April 24: Nine months of U.S.-mediated peace talks collapse.
May 15: Two Palestinian teens killed in a West Bank clash with Israeli troops on the day that Palestinians mark their uprooting during the Mideast war over Israel's 1948 creation.
June 2: A Palestinian unity government is sworn in, a major step toward reconciliation between the rival Fatah and Hamas factions. Israel denounces the government because it includes Hamas.
June 12: Three Israeli teenagers — Eyal Yifrah, 19, Gilad Shaar, 16, and Naftali Fraenkel — are abducted and killed by Hamas operatives in the West Bank.
June 13: Israel launches a broad military operation to find the teens, arresting hundreds of Hamas members. Hamas militants in Gaza respond with rocket attacks.
July 2: Mohammed Abu Khdeir, a 16-year-old Palestinian from east Jerusalem, is abducted near his home and burned to death by Israeli extremists in a revenge attack for the deaths of the Israeli teens. The death triggers violent protests.
July 8: Israel launches a military campaign against Hamas in Gaza after heavy rocket fire on Israeli cities. The war lasts 50 days and kills more than 2,100 Palestinians, mostly civilians, according to the United Nations. Seventy-two people die on the Israeli side.
Oct. 1: Israel gives final approval for construction of a new housing development in east Jerusalem, the section of the city claimed by the Palestinians as their future capital.
Oct. 2: Israeli nationalists move into apartments secretly purchased in the heart of the Arab neighborhood of Silwan in east Jerusalem.
Oct. 20: Israeli nationalists move into more apartments in Silwan.
Oct. 22: A Palestinian rams his car into a crowded Jerusalem train station, killing a 3-month-old Israeli-American girl and a woman from Ecuador. The attack comes after weeks of clashes around a sensitive holy site revered by Jews and Muslims.
Oct. 29: A Palestinian on a motorcycle shoots and seriously wounds Yehuda Glick, an Israeli-American rabbi campaigning for more Jewish access to the contested Jerusalem holy site.
Nov. 5: A Hamas militant slams a minivan into crowd waiting for a train in Jerusalem, killing two.
Nov. 8: Israeli police shoot and kill an Arab Israeli protester at a demonstration in northern Israel. Video indicates the man was walking away from the officer when shot.
Nov. 10: Palestinian attackers kill two Israelis in Tel Aviv and the West Bank in separate stabbing attacks.
Nov. 13: U.S. Secretary of State John Kerry meets Israeli Prime Minister Benjamin Netanyahu and Jordan's King Abdullah II in Amman; the trio agrees on steps to defuse tensions at Jerusalem holy site.
Nov. 14: Israel lifts age restriction at holy site; Friday prayers go off without incident.
Nov. 16: Police say Israeli man stabbed in the back by an "Arab" attacker in Jerusalem and wounded. Assailant escapes.
Nov. 17: Israeli government says it will step up punitive demolitions, gives notices to families of Palestinian attackers
Nov. 18: Two Palestinians storm Jerusalem synagogue, kill four and wound six.