2 buses collide head-on in central Pakistan, killing 24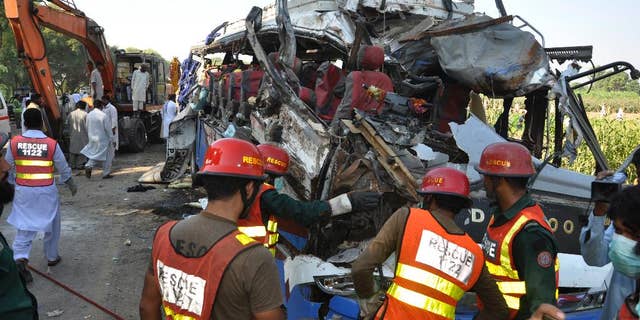 MULTAN, Pakistan – Officials in central Pakistan say two passenger buses have collided head-on, killing 24 people and injuring 69.
Police official Jamshid Shah says speeding seems to be the cause of Monday's accident, which occurred on a dangerous curve in Rahim Yar Khan district.
Shah says women and children are among those who were killed and injured.
He says police and rescue officials are using cutters to retrieve bodies stuck inside the two buses.
Dr. Tasleem Kamran says several of the injured are in critical condition.
Deadly road accidents are common in Pakistan, mainly because of bad road infrastructure and reckless driving habits.