Hawaii investigates graffiti found on revered mountain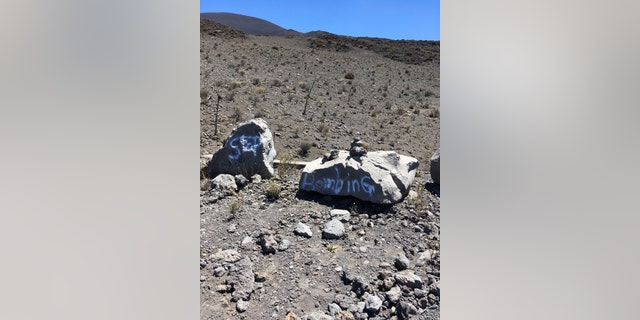 HONOLULU – Authorities are asking for the public's help in finding out who painted graffiti on rocks within a protected area on one of Hawaii's most revered mountains.
The vandalized rocks were found at about the 10,000-foot level of 14,000-foot-high Mauna Kea on April 28, said Jason Redulla, deputy enforcement chief of the state Division of Conservation and Resources Enforcement.
Rocks were painted with the words "stop" and "bombing," according to a photo released by the state Department of Land and Natural Resources. The rocks were defaced in the Mauna Kea Ice Age Reserve, an area that's accessible to visitors via trails.
Mauna Kea has been the focus of protests by Native Hawaiians who say they are protecting the mountain from a giant telescope. Protesters are fighting to stop the Thirty Meter Telescope from being built atop Mauna Kea.
The word "bombing" is likely a reference to efforts to stop the military from using the Pohakuloa Training Area, Kealoha Pisciotta, one of the leaders in the fight to stop the telescope, said Monday.
Mauna Kea is sacred because it is considered the meeting place of the gods, Pisciotta said.
"It's equivalent to spray-painting in a church, in a synagogue or a temple," she said. "Places of reverence require pono, or righteous, behavior."
She condemned the vandalism as desecration.
"We ask those who support our stand for (Mauna Kea) and for protecting Pohakuloa from live-fire bombing to join with us in this non-violent stand committed to honoring the sacredness of all beings and places," she said in a statement.
The vandalism goes against the protesters' beliefs, said Kahookahi Kanuha, another protest leader.
"While obviously I wouldn't oppose the message, I definitely oppose the method," he said. "I'm in full support of demilitarizing Hawaii and stopping the bombing at Pohakuloa. However, we can't desecrate a sacred site to protect another site."
The reserve is protected by state law, which prohibits disturbing, damaging and removing rocks or geological features, Redulla said.
"Because of the protected status of the area — it's scientific, it's historic and it's culturally significant — there's protections in the area," he said, adding that violators can face up to a year in jail and fines of up to $1,000.
Graffiti also was painted on a portable restroom, a parking stall and other areas of Mauna Kea property managed by the University of Hawaii, said school spokesman Dan Meisenzahl.