Guitar hero: Charges dropped against man who blasted 'Star Spangled Banner' on July 4
The Florida college student who was cited and nearly arrested for celebrating July 4 with a searing guitar rendition of "The Star Spangled Banner" at a block party is getting the last laugh.
Charges against Lane Pittman of breaching the peace and inciting a riot in the Neptune Beach incident were dropped, according to his attorney, Caleb Rowland.
"Despite the delay, Mr. Pittman is pleased the State's Attorney's office declined to prosecute him for expressing his patriotism and exercising his First Amendment right by playing the National Anthem on Independence Day," Rowland told the blog LegalInsurrection.com.
"I just don't want the people surrounding me or who look up to me to think I'm someone that I'm not."
Pittman, who reprised his performance days later on "Fox & Friends," said he only meant to pay patriotic homage, and the crowd that surrounded him in the videotaped incident seemed to agree. He told FoxNews.com he had learned to play the Anthem for a lacrosse team he coaches and thought the Neptune Beach crowd would "dig that."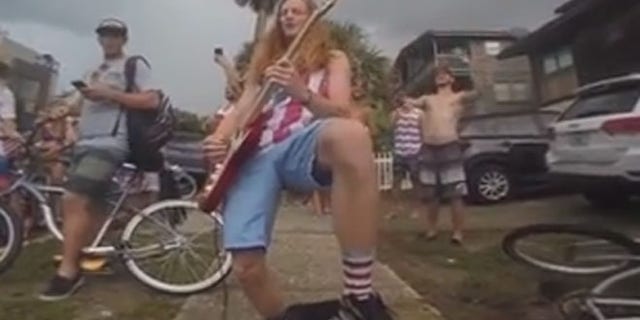 NEWYou can now listen to Fox News articles!
He started off in the street, but only got a few notes out before Pittman said a police officer told him, "If you want to go to jail you can keep playing. You can't play in the middle of the street." So Pittman moved to the sidewalk, where a video captured his performance, the crowd's enthusiastic reaction – and several police officers approaching him after the conclusion of his act.
"Out of respect, the officers waited until he finished the National Anthem," Neptune Beach Chief of Police David Sembach told Fox News. "Then he broke into Ted Nugent's "Stranglehold." He was told to stop playing. A crowd of two or three-hundred had gathered and, not only were they blocking traffic, but they were getting rowdy because the police were getting them out of the street."
Pittman, a senior at University of North Florida, posted a victory message on his Facebook page after the decision.
"ALL. GLORY. TO GOD," it read. "The State Attorney's office has decided to drop all charges!!!! SO pumped!! Thank you for all the prayers, kind words, and thoughts!! It means the world!!"
Even though police downgraded the charges to a citation for disturbing the peace, Pittman told FoxNews.com he battled to have it dropped because he wanted his name cleared.
"I'm not trying to bash cops," Pittman said. "I just don't want the people surrounding me or who look up to me to think I'm someone that I'm not."