Is this sleek, new yacht the Tesla of speedboats?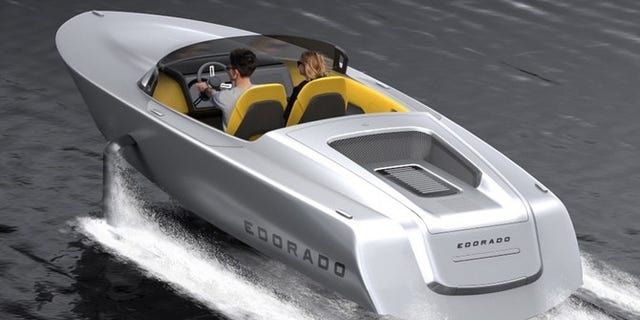 Netherlands-based electric powerboat company Edorado Marine is now accepting preorders for its stylish new 7S speedboat.
The sleek craft was designed over the course of two years—in collaboration with Dutch design-and-consultancy firm Springtime and yacht designers Peter Bosgraaf and Tom Speer—with GT sports cars in mind: high-performance machines with comfortable interiors.
The 7S's simple yet bold profile is unique in that the boat—using hydrofoil technology—travels above the water, allowing for faster speeds thanks to minimal drag (Speer, as a member of America's Cup Team Oracle, appreciates the need for speed).
When the boat accelerates, the blades slice through the water and lift the vessel above the waterline. The 23.5-foot-long all-electric speedboat can travel at relatively high speeds (up to 40 knots) and boasts a range of nearly 50 miles on a single charge. And of course, its good looks don't hurt. The 7S has been called the Tesla of speedboats.
More from Architectural Digest:
Go Inside a $53 million Private Jet
Inside Jennifer Aniston's Gorgeous Beverly Hills Home
10 Awesome Hotels in California's Wine Country
10 Hotels with Unbelievably High-End Amenities
Sarah Jessica Parker's Epic East Village Townhouse
The 7S's luxurious yellow-leather interior, with seating for four, provides a welcome bright contrast to the silvery hull and dark-gray accents. The helm is also equipped with a touch-screen dashboard and built-in navigation system.
Smooth sailing and zero emissions makes for an altogether stylish ride. The first Edorado Marine 7Ss should be completed by 2018.