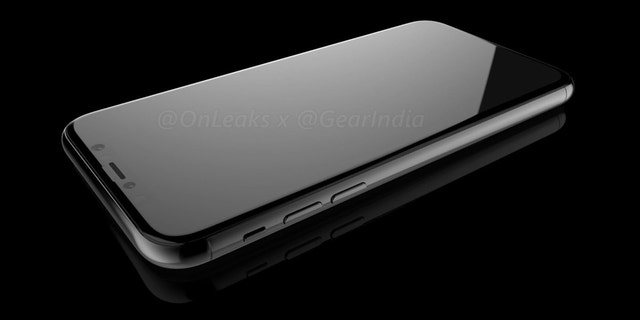 A recent render of the upcoming iPhone may be the closest thing yet to what to expect from Apple's overhaul of its flagship phone.
Images and a video appeared this week that offered a compelling take on the design, including a depiction of an organic light-emitting diode (OLED) display – a first for an iPhone – that occupies the entire front of the phone from edge to edge.
The render is based on a "leaked" CAD image from Onleaks and "may offer the most accurate look yet at what the iPhone 8 could look like," according to a report from 9to5Mac, an Apple enthusiast site.
The display in the images and video comports with reports that the OLED screen may be flat – or at least flatter than the curved OLED display on the Samsung Galaxy S8. A recent blog post from an IHS Markit analyst echoes that view.
"Apple…is said to be launching its first [OLED] iPhone in the third quarter this year, with the company adopting the 18:9 aspect ratio for the first time," wrote IHS Markit analyst David Hsieh this week. "Unlike Samsung's dual-edge design, we believe Apple will be using a flat design with no bezel, or what some call [a] full-screen display."
The aspect ratio refers to the height and width of the display. For instance, the new LG G6 phone has an 18:9 format display.
Hsieh adds that smartphones with no bezel will be a trend for major Chinese brands, which are expected to bring out phones with full-screen, borderless displays. "The top Chinese brands have developed similar no-bezel product plans," he wrote.
Other rumored iPhone 8 features
The render also shows a vertical dual camera on the back. The vertical alignment of the dual camera is rumored to be related to augmented reality technology expected on the device.
Other conspicuous changes worth noting are stainless steel edges, a la the iPhone 4, as well as an all-glass back. The phone also appears to be slightly thicker than the current iPhone 7.
The render aside, there is no consensus on what will happen to the fingerprint sensor. Some reports claim it will be integrated into the front glass, while others place it on the back. Others claim that Apple is having a tough time integrating the Touch ID fingerprint sensor underneath the glass and may ultimately abandon that approach.
A recent report from KGI Securities analyst Ming-Chi Kuo, via MacRumors, questions "whether OLED iPhone cancels Touch ID (fingerprint recognition)."
iPhone 8 delays?
There are also rumors of a delayed launch of the new device, which typically pop up a few months before Apple delivers a new iPhone.
Analyst Kuo believes that there is a "rising probability of worst-case scenario for iPhone shipments." Kuo believes that the production ramp-up for the iPhone 8 could be pushed back to "as late as October-November," according to MacRumors.
A recent research note from investment bank Morgan Stanley said that the "new iPhones [are] expected to launch in the month of September and ramp in volume during the December [fourth] quarter."