Shuttle Endeavour Ready for Launch, Bound for International Space Station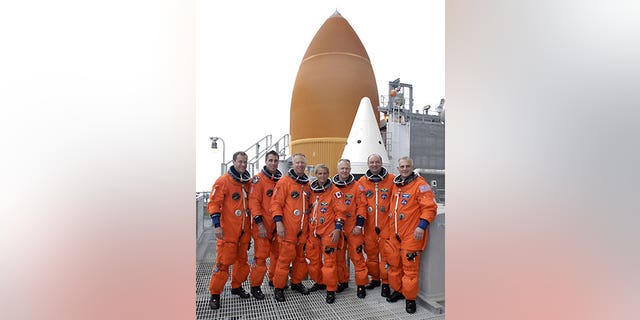 The fully staffed International Space Station is about to get even more crowded — when seven shuttle astronauts join the six men already aboard, boosting the number of people to a record 13, the highest population yet.
NASA managers have given a unanimous "go" to Saturday's launch of space shuttle Endeavour.
On Thursday, mission managers cleared Endeavour for its flight to the international space station. The weather outlook is about as good as it gets — 90 percent — and forecasters say that's because of the early morning launch time.
• Click here for NASA's live video feed.
• Click here to visit FOXNews.com's Space Center.
Endeavour and its crew of seven will deliver the final piece of Japan's $1 billion space station lab, an outdoor shelf for experiments. The astronauts also will attach some big spare parts outside the orbiting outpost, replace aging batteries and perform other maintenance. Five spacewalks are planned.
The seven shuttle fliers will join six men already at the space station for close to two weeks. It will be the first time 13 people are together in space at one time.
"The shuttle crew just comes barging in and bringing all their toys with them," said mission management team chairman Mike Moses.
While it may be hectic in orbit with so many people, Moses expects to see some time saved now that six people are living on the space station. The crew size doubled late last month.
Canada also will score a space first on launch day. Two Canadians will be in orbit — one on the shuttle and the other on the station — at the same time.
Canadian Space Agency officials also proudly note that the mission will feature unusually complex robotic arm work. Canada supplied both the shuttle and station arms.
"All Canadians are proud," said Pierre Jean, Canada's space station program manager.
If it starts on time, Endeavour's 16-day flight will follow the successful repair effort at the Hubble Space Telescope by less than three weeks. That mission was carried out by Atlantis.
The Associated Press contributed to this report.