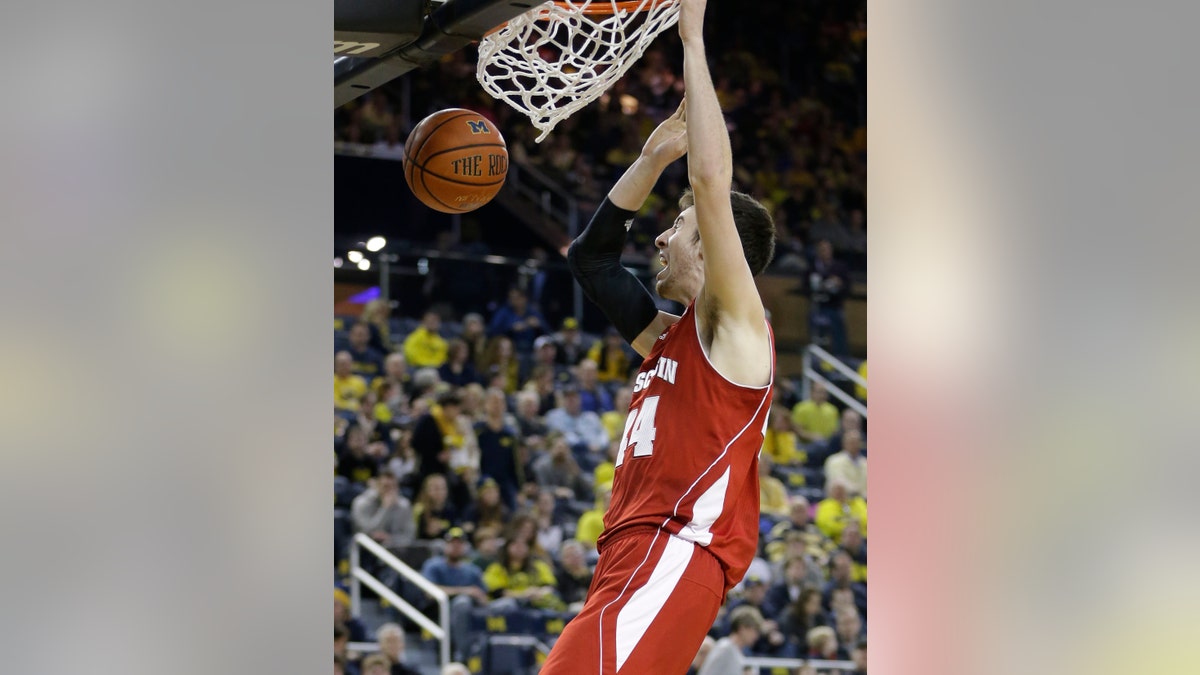 Whether it's because Wisconsin is playing with more energy or paying better attention to details, the 16th-ranked Badgers have regained their confidence.
Nothing like a four-game winning streak to break out of a midseason slumber.
Leading the way has been 7-footer Frank Kaminsky, who has turned into a force in the lane on both ends of the court.
"I don't think really there's much of a big difference," Kaminsky said. "I think we were just in a little more of a rut."
Five losses in six games felt more like a big pothole after a school-best 16-0 start. Offense was the problem in the first three losses; defense was the bigger issue in the latter two.
The Badgers (21-5, 8-5 Big Ten) dropped out of the AP Top 25 following a 59-58 loss to Ohio State at home on Feb. 1.
Coach Bo Ryan administered a quiz a few days later during a film study period to test his team's aptitude for what he wanted them to do, and to find out in what areas players needed to brush up. Ryan was satisfied, for the most part.
They haven't lost since. Kaminsky said the team has been much more detail-oriented and "making more effort to stop people, getting into their heads."
"We all realized what we were doing wrong, what we needed to be, who we needed to stop," Kaminsky added this week.
He was an even bigger matchup problem on offense last week in a 75-62 win Michigan that essentially served notice the Badgers were back to their early season form. Just in time for another crucial road contest, Saturday at No. 15 Iowa.
The 234-pound Kaminsky isn't the most physical player, but he can hit from 3-point range and take advantage of slower guys in the lane.
"They talk about players being in the zone, but his zone was driving lines and finishing and being active inside," Ryan said. "Can he do that all the time? No. Defenses are geared to stop certain things."
But Wisconsin has shown more offensive balance than the typical Ryan-led team. Three players are averaging at least 13 points a game in senior guard Ben Brust and frontcourt players Sam Dekker and Kaminsky.
Brust has struggled of late with his shot, but remains the team's most potent 3-point threat. Dekker can be an inside-out threat. Athletic freshman Nigel Hayes has emerged in Big Ten play as another frontcourt option.
Hayes has turned into such an exciting player at home that fans at the Kohl Center start saying "Ohhhh" in a low roar in anticipation as soon he touches the ball on offense. Hayes averages 7.9 points per game overall, but 10.4 in Big Ten play.
The offensive balance is even more evident in conference games, with six players averaging at least 8.8 points.
Whatever the reason for the improve play of late, Hayes likes the outcome.
"A sense of urgency. We shot ourselves in the foot in the conference with the losses that we have," Hayes said. "That's the drive behind it."
___
Follow Genaro Armas at http://twitter.com/GArmasAP