Wisconsin offensive breakdown against LSU leaves coach Gary Andersen with questions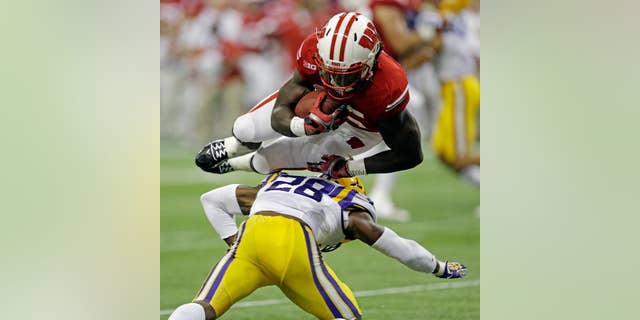 NEWYou can now listen to Fox News articles!
MADISON, Wis. – Wisconsin coach Gary Andersen has more questions than answers about his offense after his team's fourth-quarter collapse Saturday.
Duel-threat quarterback Tanner McEvoy struggled in his debut and running back Melvin Gordon had just four carries in the second half of the Badgers 28-24 loss to 13th-ranked LSU.
Wisconsin looked good going up 24-7 early in the third quarter on a touchdown set up by a 63-yard Gordon run, but the standout ball carrier was sidelined much of the rest of the game by an injured hip flexor.
The No. 14 Badgers were in front 24-13 entering the final period before LSU took command.
"We lost the fourth quarter, obviously," Andersen said Monday. "We did not run the ball well in the fourth quarter. When we had to throw the ball in the fourth quarter, we didn't throw the ball well in the fourth quarter."
McEvoy, who played mostly at safety last season but beat out incumbent Joel Stave for the starting job, completed just 8 of 24 passes for 50 yards along with two costly fourth-quarter interceptions.
"Do we need better play? Absolutely," Andersen said. "No one's going to sit here and debate that, that we need better play out of the quarterback, that we need better play in the throw game, period."
Gordon rushed for 140 yards on just 16 carries but sat out much of the fourth quarter. Following the game, Andersen said he did not know why Gordon was held out. On Monday, however, Andersen said that Gordon had injured a hip flexor.
"Melvin had a little bit of a hip flexor," Andersen said. "Anybody that knows Melvin can see that on the long run that he broke out in the second half. It was very obvious that he had pulled up there on the end of that run. We were trying to be smart with him as the rest of the game went on and trying to make educated decisions to keep us moving in the right direction with Melvin for that game, for the future."
Gordon said that he could have stayed in the game, but didn't communicate that very well to the coaches or the training staff.
"Maybe I should have really let them know, let Coach A know and stepped up and told them, 'Look, I need to be in there,'" Gordon said. "I kind of just sat back, and I put that on myself. I wasn't really forceful with it. I really wasn't demanding with it, and I probably should have been."
With Gordon limited and McEvoy ineffective, the offense was unable to provide a break for the defense, which wore down late.
"The sustainable drives were just not there in the second half," Andersen said. "Again, credit goes to them. They did a nice job. They controlled the football game, and that is really hard for me as a head football coach to look at the team, at you guys, and everybody else and say that we couldn't get it done in the fourth quarter. That's hard for me to swallow."
The late offensive breakdown leaves Andersen searching for solutions that would get more out of McEvoy and the passing game and establish production outside of Gordon.
Andersen, meanwhile, said McEvoy will remain the starter in the home opener Saturday against Western Illinois, which opened with a 45-6 victory over Valparaiso.