Willie Taggart is ready for his next trick rebuilding Oregon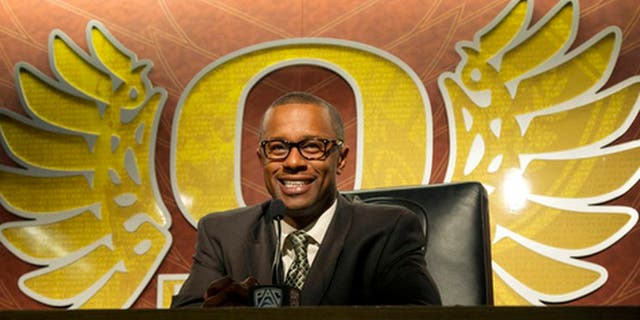 EUGENE, Ore. In a fourth-floor conference room adjacent to his corner office, Willie Taggart recalled the first time he stepped foot in Oregons futuristic 145,000-square foot Hatfield-Dowlin Complex aka the Death Star.
I thought I had to take my shoes off when I walked in, the Ducks new head coach joked. To this day, when I come in and out, its still like, wow. I cant believe Im in charge of this building.
The former head coach of Western Kentucky and USF was handed the keys to a literal castle one built of black granite, Brazilian hardwood and magnetic walls, where the 2014 Heisman Trophy gleams in the lobby.
But the business headquartered in that palace Oregon football is in disrepair. Its the 40-year-old Taggarts job to fix it. Which might not happen quickly, based on what he saw when first laying eyes on the personnel he inherited.
I was really shocked at how weak we were as a football team, Taggart said. Having this great facility, its easy to get complacent. You assume recruits are just going to come, but youve got to go get them.
Oregons abrupt downfall under former coach Mark Helfrich both stunned and bewildered the college football world. Two years and three months ago, he and the Marcus Mariota-led Ducks were facing Ohio State in the first College Football Playoff championship game. Oregon won a school-record 13 games in 2014, notching its seventh straight season with double-digit wins. Its patented up-tempo offense averaged more than 45 points for the fifth straight season.
Out east, and down in the South, you always thought of Oregon as kind of frightening, said former FIU head coach and Alabama assistant Mario Cristobal, now the Ducks co-offensive coordinator. It looked like they just threw caution to the wind and were always on the attack. Back east, it was a huge Wow factor.
Two seasons later the Ducks had slipped to 4-8, fielding one of the nations worst defenses, getting routinely blown out and falling to rivals Washington and Oregon State for the first time since last decade. AD Rob Mullens fired native son Helfrich and made Bradenton, Fla., native Taggart the Ducks first head coach since 1976 who wasnt promoted from within the program.
Taggart did not rise through the ranks at Oregon. If anything hes more like a de facto Harbaugh. Taggart played quarterback for Jack Harbaugh at Western Kentucky and later became his assistant. Jim Harbaugh was the best man at Taggarts wedding and hired him at Stanford. At USF, a familiar Harbaugh motto Enthusiasm Unknown to Mankind lined a wall in the football building.
They passed me the blueprint for building a program, Taggart said. Thats all Ive known is the Harbaugh way, as a player and a coach. Its a way I believe in, its a way thats worked, not only for me but for a lot of people that worked for them.
In his first head coaching jobs, Taggart has pulled Harbaugh-esque turnarounds. He lifted his alma mater, Western Kentucky, from 2-10 in his first season to the schools first bowl berth two years later. At USF, the Bulls went from 2-10 his first season to 11-2 and a Top 25 ranking in his fourth.
Meanwhile, over his last two seasons at USF he devised his self-coined Gulf Coast Offense, an amalgam of the best elements from up-tempo offenses like Auburn, Baylor, Clemson and, yes, Oregon. Behind star dual-threat QB Quinton Flowers, the Bulls last season produced the nations No. 5 rushing offense.
Still, there are plenty of skeptics who questioned whether a relatively unheralded coach with no ties to the West Coast was ready for a job as big as Oregons. His first six weeks on the job did nothing to quell their concerns.
In mid-January, three Ducks players were hospitalized for rhabdomyolysis brought on by overexertion during the new regimes first week of winter conditioning. Taggart issued an apology, and Oregon levied a one-month suspension of football strength coach Irele Oderinde, who came with Taggart from USF.
He maintains that media accounts at the time mischaracterized the nature of the workouts and believes neither he nor Oderinde acted improperly.
We know we didnt do anything to try to hurt our kids. Wed done [the same program] everywhere weve been and never had a problem, Taggart said. I think our guys just overworked themselves and didnt hydrate. They were trying to impress the new coaches.
The heat over that saga had barely begun to dissipate when recently hired co-offensive coordinator David Reaves was arrested Jan. 22 on DUI charges. Receivers coach Jimmie Dougherty was a passenger in the car. Reaves resigned before he could be fired; Dougherty left for UCLA.
Youre like, Youve got to be kidding me, Taggart recalled. You know youre going to have some adversity, but you dont expect it to happen that quickly.
While both stories will surely fade by September, Taggart knows theyll be brought back up again until he shows he can win games. Which he knows will be tough at the outset.
There are numerous reasons why Oregon imploded post-Mariota, but the overriding one is simply that Helfrich and his staff missed badly in recruiting. Thats particularly evident on defense where, after years of churning out NFL players like Kiko Alonzo, Arik Armstead and DeForest Buckner, the Ducks produced FBS 126th-ranked unitlast season. The talent level on that side of the ball is, to put it nicely, lacking.
We have a guy or two that can play at some positions, but not a whole [position] group that we feel comfortable with, Taggart said.
He did score two major coups, though, first in hiring away renowned Colorado defensive coordinator Jim Leavitt (believed to be the highest-paid assistant in the Pac-12 at $1.15 million) and, earlier this month, landing Clemson grad transfer DT Scott Pagano, a surefire starter and projected NFL prospect.
Coach Leavitts got a tough task ahead, Taggart said.
Offense, on the other hand, provides Ducks fans' biggest source of optimism.
Taggarts fast-paced, downhill offense (he says hes keeping the Gulf Coast nickname) assures the program wont stray dramatically from Chip Kellys signature spread. Quarterback Justin Herbert showed considerable promise as a true freshman; the line should make major strides after starting four freshmen last season; and stud running back Royce Freeman is somehow still in college.
Our job is not to mess him up, Taggart said.
His larger job is to reestablish a winning culture at a program where things got so bad last year that at one point then-offensive lineman Cameron Hunt told the Register-Guard that 30 to 40 percent of his teammates dont even care if we win or lose.
The recurring buzzword with both Taggart and those whove worked with him is accountability. He divided the team into nine groups of players, each a mix of different positions. If one guy skips a class, the whole group suffers consequences. Meanwhile, at the end of practices, Taggart may randomly call on a specific player or coach and make them speak to the entire team.
Ive had the good fortune of being at Miami and Alabama, and running my own program at FIU, and I cant tell you how impressed I am with the way Coach Taggart runs his program, Cristobal said. The integrity factor, the player relations factor, the discipline factor, the teaching and development factor theyre super high.
Of course, thats not the first impression most observers formed when those players wound up in the hospital in January.
AP Photo
Itd be easy for people to say, 'OK, its a new staff, theyre trying to break these guys down' especially since all I kept hearing was, Coach, Oregon is soft a football team, Oregons not tough, Taggart said. Its easy to take that story and think were in here trying to make them tough.
I cant make them tough. Youre either tough or youre not.
Oregon was plenty tough back when it was winning 12 games a year which was only two years ago but must seem so much longer to the guy tasked with getting back there.
I think a lot of the young men that were here, they came here for the uniforms, not to be a great football player. That fell by the wayside, Taggart said. Weve got to get back to being blue collar. Weve got to make them earn the things that they get here and they get a lot.
Craig Mitchelldyer | Getty Images