Which freshmen have a chance to make an impact in 2016?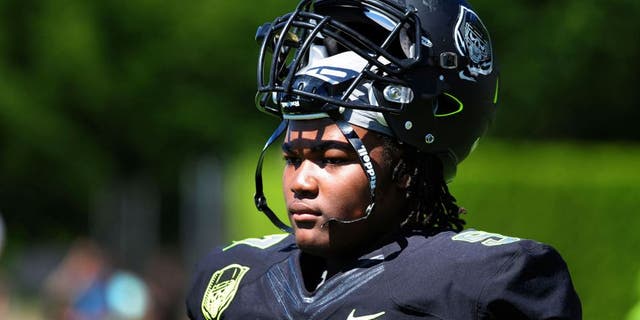 The 2015 college football season was a big one for impact true freshmen players. Christian Kirk, Josh Rosen and Saquon Barkley were just a few of the breakout stars in that class who more than lived up to their recruiting hype. Who are the guys to keep an eye on in the Class of 2016? FOX Sports spoke with 36 college coaches over the past week -- ranging from head coaches, assistants and in-house recruiting coordinators -- to ask who are the freshman they thought had the best chance of making a big impact in 2016.
Judging from the comments we got, it sounds like this class is especially deep on athletic D-linemen and lighter than usual on skill talent -- especially on the West Coast. The top vote-getter in our survey was New Jersey DT Rashan Gary, who is still undecided on where he will go to college and reportedly is deciding between Michigan, Auburn, USC, Ole Miss, Clemson and Alabama. The Wolverines are considered the favorite for Gary. It certainly hasn't hurt Michigan's chances that one of Gary's former high school coaches, Chris Partridge, was just recently promoted to special teams coordinator after arriving in Ann Arbor as director of player personnel.
The 6-4, 300-pound Gary received eight votes from the college coaches we surveyed.
"This is a really good defensive line class and he is head and shoulders above every other D-lineman in this class," one longtime college coach said. "He's 300 pounds and he moves well enough, he can play end. He's great with his hands. He's strong. He's been very well-coached and has had a great high school D-line coach. Rashan Gary is the Leonard Fournette of this class."
Said one in-house recruiting coordinator who has worked at two Power 5 conference schools: "He's a 300-pounder who moves like he's 240. He is special."
Another veteran Big Ten coach was a little more guarded when asked to ID his 2016 impact freshman, but went with Gary. "He's so quick and so twitchy. He's a very, very good player. He's getting so much attention though, and some of that I do think is because he's taking (his recruiting process) right to the end to Signing Day."
Ed Oliver, a 6-2, 280-pounder defensive tackle committed to Houston, received the second most votes with four. "He's so quick off the ball and just so explosive with his hips and his hands -- he's jacking people up when he strikes," a veteran Big 12 coach said. "He's also got great lateral movement. He does have short arms, but in that conference (the AAC) he will be hell on wheels."
"He is explosive as (bleep) and he's going to be going up against a lot of very average offensive linemen," said another college assistant, who recruits in Texas a lot. "I think he'd be a problem for a lot of SEC linemen. In that league he's going to be scary."
The other player to receive more than two votes was Greg Little, an offensive tackle from prep powerhouse Allen High School in Allen, Texas. The 6-6, 310-pounder committed to Ole Miss received three votes.
"He's really athletic and he's been extremely well-coached," said another Texas-based coach, who also pointed out that Little has the talent and maturity to be ready to step up as Ole Miss tries to replace LT Laremy Tunsil. "He's everything you're looking for."
Said an SEC coach, "He is just so polished. He has excellent feet and excellent technique."
Rounding out the top six vote-getters were Jacob Eason, a 6-5, 230-pound QB from Washington already enrolled at Georgia; Jonah Williams, a 6-5, 290-pound offensive tackle from California, already enrolled at Alabama and Drake Davis, a 6-4, 215-pound former soccer star from Baton Rouge who played WR at IMG Academy in Florida, committed to LSU. Each got two votes.
"This was a down year for quarterbacks especially compared to last year," said one West Coast-based coach of Eason. "I liked Shea Patterson the most of the QBs, but Eason's got great size and I like his arm. He's a mid-year and (Georgia) really needs a quarterback. I think he's better than what they have."
"He's really good," a veteran Pac-12 assistant said. "He'll start for them next year. He reminds me of a bigger Sam Bradford. I like his arm. Like his pocket presence. There have been some over-recruited QBs from there (Washington State) though. The million-dollar question is, 'how well can he catch up to the speed of the game in college?'"
Both coaches who mentioned Williams weren't very sure on what the Alabama depth chart looks like for 2016. (The Tide have to replace starting RT Dominick Johnson.) "He is ultra-smart and heavy handed," a Pac-12 OL coach said. "He has a super high motor, is intense and he gives uncommon effort every play."
Davis was called by one Pac-12 coach, "the best specimen in the entire class. He's track fast. He's football fast. He can be a very special receiver, but he could probably be whatever you want him to be."
"Drake Davis is the [expletive]," one college recruiting coordinator said. "He can run a 10.3 (100 meters). He's an elite soccer talent and I've watched him play defense and he lights people up."
A third coach also mentioned Davis but thought he was too raw and nowhere near polished a route runner to be ready to make a big splash in 2016.
When I asked the recruiting coordinator about how raw Davis was as a route runner, he replied: "None of them are great route runners. If you're a great route runner in high school, you're slow."
Here are the other prospects who received one vote:
● Nick Bosa, a South Florida D-lineman committed to Ohio State, where his brother Joey just finished up. "I think that kid could've been playing major college football as a high school junior," one ACC coach said. "He's not the freak some of these other D-linemen are, but he's just a heck of a ball player."
● A.J. Brown, a 6-2, 220-pound WR from Starkville, Miss., picking between Mississippi State, Ole Miss and Alabama: "He's not as tall as (former Ole Miss star) Laquon Treadwell," one SEC coach said, "but he has the same ball skills and is physical like him and he's faster than him."
● Derrick Brown, a 6-4, 315-pound DT from Buford, Ga., expected to choose between Georgia, Alabama, Auburn, Tennessee and Mississippi State: "He's got great size. He's very strong and explosive, and he's a real disruptor (in the middle of the line)," one SEC assistant said. "He is what D-linemen are supposed to look like."
● Tyler Byrd, a 5-11, 195-pound cornerback from Naples, Fla., committed to Miami: "He's just a baller," one Power 5 assistant said. "Watch him in the Army All-American Game. He blocks a kick and returns it. Then, he picks off a pass. He's a great competitor."
● Raekwon Davis, another super-sized D-lineman committed to Alabama. "He is an utter freak-show," one Power 5 assistant said. "He is all of 6-7, 335 and he runs like a damn deer. He's really raw, but he is a rare athlete."
● Damar Hamlin, a 6-1, 175-pound cornerback from Pittsburgh picking between Pitt, Ohio State, Penn State and ND: "The loosest hips and the best feet of any cornerback I've ever seen," one longtime defensive coach in a Power 5 conference said. "He's 6-1. He's long. He's physical and he's fast. He'll be a first-round corner."
● Jack Jones, a 5-10, 178-pound WR/CB/KR from Long Beach, Calif., picking between USC, Alabama and Texas A&M. "He just makes a ton of plays," one Power 5 assistant said. "I know he's not very big, but he's just a (expletive) stud. He has great ball skills. His change of direction is unbelievable and he's got great confidence. He can be a lock-down corner and I think from Day One he's going to make a bunch of big plays on special teams."
● Kendell Jones, a 6-5, 375-pound Texan committed to play defensive tackle for Alabama. "They call him The Hulk and it fits," one Texas-based coach said. "He is the most physically mature kid I've ever seen in high school. He's just huge and strong and he will fit their defense for what they want."
● Dexter Lawrence, a defensive tackle committed to Clemson. "I loved this kid. He is 6-5, 345 and was the fastest defensive tackle at the Army combine. He's benched 225 30 times and he's not stiff at all. He plays with low-pad level and has really good hands for a high school kid. I think he will (eventually) be a top-10 NFL Draft pick. He's a solid, humble kid. He's a lot bigger than (Rashan) Gary," said the East Coast-based coach, who added that he thinks Clemson is putting together a class with some fantastic talent, also mentioned Tre Lamar, a tall linebacker who can fly.
● Demario McCall, a 5-10, 180-pound all-purpose back from Ohio committed to Ohio State: "They (the Buckeyes) have to replace a lot of guys and I could see him helping them out early," one Power 5 assistant said. "He's really dynamic and can play in the slot."
● Shaquille Quarterman, a 6-0, 235-pound linebacker from Orange Park, Fla., committed to Miami: "He's not that tall, but he's just flies all over the field," one Big 12 recruiting coordinator said. "The guy makes plays everywhere. He was the best linebacker I saw on high school tape this year."
● Demetris Robertson, a 5-11, 175-pound WR/CB from Savannah, Ga., picking between Notre Dame, Georgia, Alabama and Stanford: "He's gonna be a difference-maker right away I think," one recruiting coordinator said. "He can be special whether he plays offense or defense."
● Miles Sanders, a 5-11, 195-pound RB from Pittsburgh committed to Penn State. "He is the total package," one Power 5 assistant said. "He has great change of direction, a great feel for open-field running, can make the unblocked guy miss; he's hard to bring down, and he's got long speed to finish." Even though Penn State already has Saquon Barkley, the coach said Sanders should team with him to give Penn State a terrific 1-2 punch.
● Tyler Vaughns, a 6-2 wideout from LA committed to USC: "He is a very polished receiver," one Pac-12 recruiting coordinator said. "He will get bigger but he has great body control and makes people miss in the open field."
● Binjimen Victor, a 6-3, 185-pound Florida wideout committed to Ohio State. "He reminds me a lot of Amari Cooper and Calvin Ridley," one SEC coach said. "He can run and jump, has great ball skills and he really competes his butt off."