WATCH: Scott Chandler's cheerleading daughters are too cute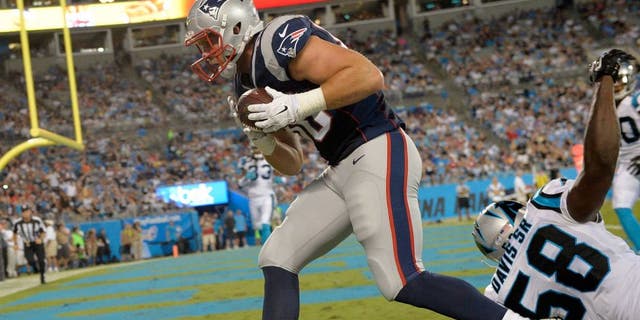 NEWYou can now listen to Fox News articles!
During Friday night's preseason victory over the Carolina Panthers, 17-16, New England Patriots quarterback Tom Brady connected with his new tight end Scott Chandler for a beautiful 18-yard touchdown catch.
Chandler's reward was a head-butt from Brady that he was thrilled to receive.
"I've been watching Tom give guys head-butts for years and I was glad to finally get one," Chandler said via ESPN with a grin.
Not only did Brady's head-butt make Chandler feel welcome to the team, but he arrived home to find out that his wife posted an adorable video of his daughters cheering his touchdown that quickly went viral.
Chandler's touchdown topped off a seven-play, 80-yard drive in which he also nabbed receptions for 15 and 6 yards. There was only 56 seconds left on the clock when Chandler secured the score. At halftime, Chandler led the team in catches with three for 40 yards and that memorable touchdown, to go along with the treasured head-butt.
The touchdown was also Brady's first of his limited preseason action.
More from Sportsnaut: