Warriors sweep Blazers, earn rest for 2nd round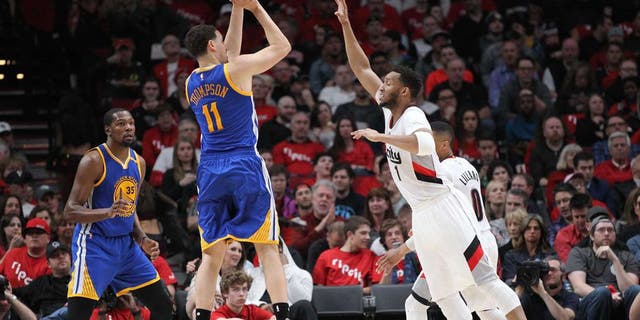 NEWYou can now listen to Fox News articles!
PORTLAND, Ore. (AP) -- The Warriors can breathe for a bit after a first-round series filled with drama.
With a sweep of the Portland Trail Blazers, Golden State now awaits the conclusion of the series between the Utah Jazz and Los Angeles Clippers -- currently tied at 2.
The Warriors will also await word on coach Steve Kerr's health -- with the short break perhaps providing more clarity about when he can rejoin the team. Kerr missed the last two games after symptoms from his back surgery two years ago suddenly flared up.
The 51-year-old coach was in obvious discomfort just before the team left for the two games at Portland's Moda Center. It was announced a few hours before Game 3 that he would stay back at the team hotel. Assistant Mike Brown, who has plenty of head coaching experience, took over.
A day later, Warriors GM Bob Myers was scheduled to address the media, but Kerr showed up instead and said he wouldn't be available for Game 4, either.
"As of now, I'm consulting with my doctors," Kerr said. "I'm hoping for some improvement and if I can get some improvement, I'll get back on the sidelines. But I'm not going to do that unless I know I can help the team."
Kerr still experiences lingering symptoms from complications following two back surgeries after the franchise's run to the 2015 championship. He missed the first 43 games last season dealing with symptoms such as headaches, nausea and an aching neck.
It is not known when Kerr might return, but he is expected to seek treatment in the San Francisco Bay Area in the coming days.
He was at Game 4 at the Moda Center, watching from the locker room as the Warriors beat the Trail Blazers 128-103 to close out the series in four games.
"We're all thinking about coach and wishing that he gets better. You can tell he's kind of forcing his way to be around. He wants to be around the team. But you can tell he's still hurting a bit," forward Kevin Durant said. "That's how unselfish he is. He always thinks about the group and I think he should be a little more selfish with him time and his body, but he wants to be around the group."
Durant, who added to the drama after injuring his calf in the opener game against the Blazers, praised Brown for stepping into a lead role with short notice. A first-year assistant for the Warriors, Brown was coach of the Cleveland Cavaliers and the Los Angeles Lakers.
In the first of two stints with Cleveland, Brown led the Cavs to their first NBA Finals appearance in 2007. He was named the league's Coach of the Year in 2009 when Cleveland finished with 66 wins.
Brown said Kerr's foundation and an experienced group of players helped make the translation easy.
"The players are smart. The coaches I have around me all kind of put me at ease, and it turns into a real fluid situation," Brown said. "So from that standpoint, everyone made it rather easy to make that adjustment."
But it's still an adjustment, Stephen Curry said.
"It's weird when you don't have your head coach," Curry said. "There's no sugar-coating that. But we have to do what we need to do in his absence."
In the midst of the sobering news about Kerr, the Warriors got a boost with the return of Durant for the final game of the series after he injured his left calf in Game 1.
Durant had just returned from a left knee injury to play in Golden State's final three regular-season games. He missed 19 games because of the injury he sustained at Washington on Feb. 28.
"We have so much depth, it's kind of like a next-man up approach," Klay Thompson said. "Obviously, Kevin is one of our best players and one of the best in the world, so we miss him when he's out."
The first-round series between the Jazz and the Clippers moves back to Los Angeles for Game 5 on Tuesday night. The Clippers are without Blake Griffin for the rest of the playoffs after he injured his right big toe in Game 3.
Brown said the break will do the Warriors good.
"In the past, I've been in this situation before as a head coach and with certain teams, certain guys you worry about having this much time off," he said. "But I truly think it's good for this group."